Taking Collaboration to New Heights: A Memorandum of Understanding (MOU) between IACAPAP and ASCAPAP
By: Yukiko Kano MD, PhD, Department of Child Neuropsychiatry, Graduate School of Medicine, The University of Tokyo and Department of Child Psychiatry, The University of Tokyo Hospital
On May 25, a day before ASCAPAP 2023 Congress, a Memorandum of Understanding (MOU) was signed into effect by Dr Daniel Fung Shuen Sheng, former president of IACAPAP, acting on behalf of Dr Luis Augusto Rohde, current president of IACAPAP, and Dr Panom Ketumarn, current president of ASCAPAP.
From left to right: Dr Daniel Fung, Dr Yukiko Kano and Dr Panom Ketumarn.
The MOU was proposed by Dr Fung in the fall of 2020, but needed to be reviewed and approved at the ASCAPAP EC meeting. The EC meeting, held on the occasion of the ASCAPAP Congress, was not held after 2019 because the Congress was postponed due to COVID-19 pandemic. The MOU was unanimously approved by the EC members. However, since electronic voting had not yet been stipulated in ASCAPAP, the MOU was formally approved and signed at the EC meeting just before the ASCAPAP 2023 Congress.

In the MOU, IACAPAP and ASCAPAP agree that they intend to establish a joint partnership in the area of mutual sharing in educational congresses and the development of joint papers on mental health policy and cultural issues.

The conclusion of this MOU is a milestone for both IACAPAP and ASCAPAP at a time when ASCAPAP 2023 Congress, the largest and most active exchange to date, was held and further development of ASCAPAP is expected. This MOU will open new horizons for collaboration and serve as a model for other organisations working on advancing CAMH around the globe.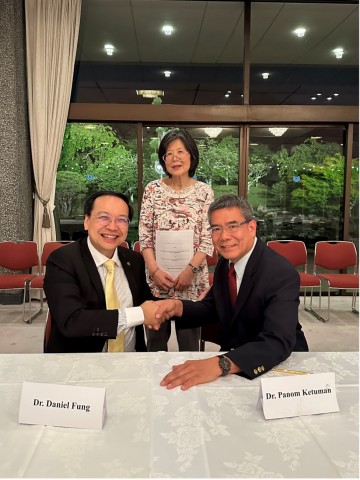 From left to right: Dr Daniel Fung, Dr Yukiko Kano and Dr Panom Ketumarn.