The 11th ASCAPAP Congress in Kyoto, Japan: Broadening Perspectives on CAMH - New Frontiers of Research and Practice in Asia
By: Yukiko Kano MD, PhD, Department of Child Neuropsychiatry, Graduate School of Medicine, The University of Tokyo and Department of Child Psychiatry, The University of Tokyo Hospital
The 11th Congress of The Asian Society for Child and Adolescent Psychiatry (ASCAPAP 2023) was held at the Kyoto International Conference Center from Friday, May 26 to Sunday, May 28, 2023.
An interesting fact in the history of ASCAPAP is that the 12th IACAPAP Congress was held in July 1990 at the same venue as this congress, and in which many participants from Asian countries and regions expressed their wish to discuss the state of children's mental health from the perspective of Asian traditions, culture, economy, politics, etc. In response to this request, ASCAPAP was established in 1996 and its first congress was held in Tokyo. Starting with Japan, ASCAPAP congresses have been held in 10 countries and regions to date, promoting child and adolescent mental health (CAMH) activities throughout Asia as well as in the host countries. To further deepen the activities based on the accumulated experience as part of the second phase of ASCAPAP's evolution, a new chapter was to start with a congress to be held in Kyoto, Japan, in 2021. However, due to the COVID-19 pandemic, it became difficult to hold the congress on site. Since the establishment of ASCAPAP, we have been emphasizing the importance of going to the host country and region and interacting face to face, while experiencing the traditions and culture there, so instead of holding the congress online in 2021, we decided to postpone it to 2023.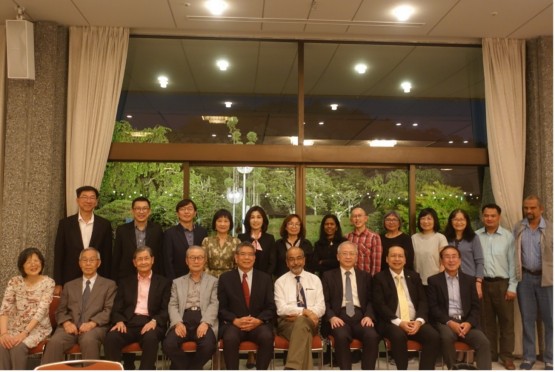 ASCAPAP Executive Committee Members on May 25, 2023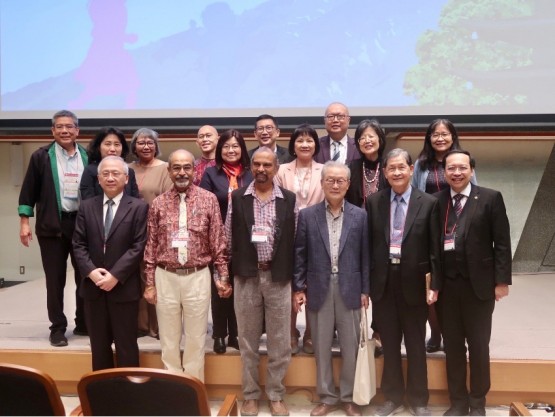 Presenters of the Country and Region Reports
The ASCAPAP 2023 Congress was thus held with 572 participants from 18 countries and regions, making it the largest ASCAPAP congress to date. In addition to Australia, which joined ASCAPAP this year, there were participants from other countries (including the president of the American Academy for Child and Adolescent Psychiatry (AACAP), Dr. Warren YK Ng), indicating that interest in CAMH in Asia is growing internationally.

At the opening ceremony, the ASCAPAP Contribution Award was presented to Dr. Kosuke Yamazaki, who was devoted to the establishment of ASCAPAP and contributed to the development of CAMH in Asia including Japan as the first Secretary General for a long time. Unfortunately, Dr. Yamazaki passed away suddenly in March of this year, so his memory was shared by the second to fourth ASCAPAP presidents who had worked with him in the establishment and development of ASCAPAP.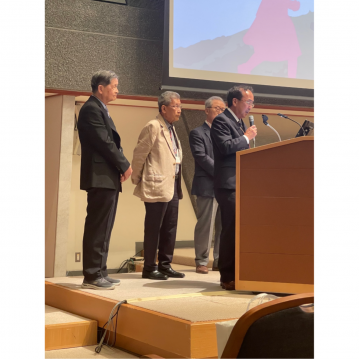 Three former presidents (Dr. Hong (South Korea), Dr. Song (Taiwan), and Dr. Banaag (Philippines)) and a current vice president (Dr. Ono) sharing their memories of Dr. Yamazaki
The program included 4 special lectures, 12 plenary lectures, 38 symposia, 25 research topics (oral presentations by middle- and young-career researchers introducing their own research), and 1 media theatre. All of them were highly fruitful presentations. The symposium topics were diverse, focusing not only on diagnosis and intervention, but also on epidemiology, neuropsychology and neuroimaging, and even animal models. While a significant proportion of the topics were found to address neurodevelopmental disorders such as autism spectrum disorder (ASD), attention-deficit/hyperactivity disorder (ADHD), and Tourette syndrome, there were also several on the broader CAMH. Some addressed trauma and attachment. Several were related to interventions involving parents and training of CAMH personnel. Several were related to artificial intelligence (AI) and COVID-19, which are receiving a lot of attention in society.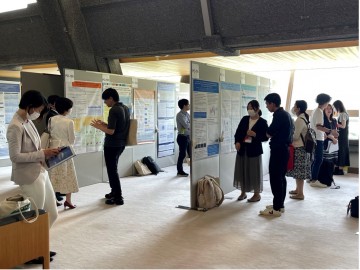 Part of the poster sessions
The conference attendees also had a chance to enjoy themselves and participated in social activities including the conference party with traditional Japanese folklore.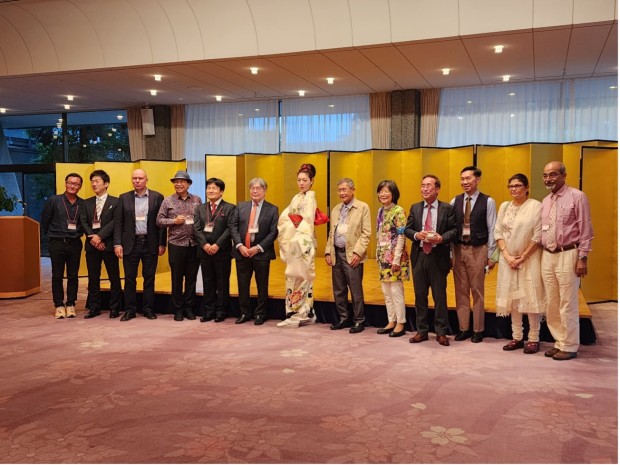 Conference party with a Japanese traditional dancer
Among the presentations, the Country and Region Reports was the most characteristic of ASCAPAP. Under the theme "Child and adolescent mental health in countries and regions organizing ASCAPAP: through the COVID-19 pandemic", presentations were made by 12 countries and regions (Cambodia, China, Hong Kong, India, Indonesia, Japan, Malaysia, Philippines, Singapore, South Korea, Taiwan, and Thailand) in 160 minutes.
Through COVID-19, participants were able to deepen their understanding of the similarities and differences in CAMH in Asian countries and regions. In addition, a large number of posters (150) were submitted. Because of the large number of excellent presentations, poster awards were presented to 32 participants, and the poster awarding at the closing ceremony was a lively occasion.

At the closing ceremony, Dr. Panom Ketumarn, President of ASCAPAP, handed over the ASCAPAP token to Dr. Takashi Okada, Congress Chair of ASCAPAP 2023, who will be President until the end of the 12th ASCAPAP Congress. Dr. Okada also presented a delicate bamboo basket with a flower design to Dr. Keun-Ah Cheon, who is replacing Dr. Bung-Nyun Kim, Congress Chair of the 12th ASCAPAP Congress, as a handover of Congress operations. She then introduced the upcoming congress to be held in Korea in 2025, and ASCAPAP 2023 Congress was closed with a pledge to meet again in Korea.