XX Argentine Congress of Child and Adolescent Psychiatry and Related Professions
Childhood and adolescence: A clinic in uncertainty
By: Argentine Association of Child and Adolescent Psychiatry and Related Professions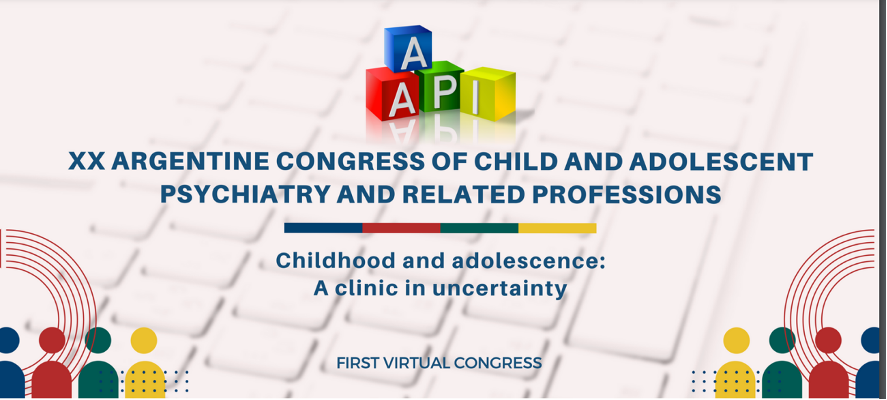 The XX Argentine Congress of Child and Adolescent Psychiatry and Related Professions was organized by the Argentine Association of Child and Adolescent Psychiatry and Related Professions and took place online on June 24- 26, 2021. The central theme of the Congress was 'Childhood and adolescence: A clinic in uncertainty'.
The aim of the congress is to creatively tackle the current challenges and to take advantage of the congress environment to encourage knowledge exchange and learning. The congress was addressed to more than 1,200 Latin American residents and health professionals in general, and those specialized in education and neurodevelopment of children and adolescents, such as psychiatrists, pediatricians, psychologists, educational therapists, neurologists, occupational therapists, social workers, music therapists, sociotherapists, therapeutic companions, and other related professionals.
The chair of the virtual congress was Dr. Pedro Kestelman (President of AAPI) and there was an ambitious program consisting of topics such as neurodevelopment, autism, addictions, violence, abuse, pharmacological treatment, psychotherapy, new problems, mood disorders, approaches in mental health, environment, intersectorality, interdisciplinary approaches, psychosis, and school education, all in the context of the COVID-19 pandemic, mandatory social isolation, and its consequences.
The topics were addressed by outstanding international and national colleagues in discussions in prerecorded and round tables, lectures, presentation of clinical cases, courses and posters, among whom were Dr. Boris Birmaher (USA), Dr. Flora de la Barra (Chile), Dr. Mara Parellada (Spain), Dr. Gustavo Turecki (Canada), Dr. Eduardo López (Argentina), Dr. Mónica Silva (Uruguay), Dr. Gabriel Lerner (Argentina), Dr. Gabriela Cortés (Mexico), Dr. Silvia Fernández (Argentina), Dr. N. Aguilar Zambrano (Ecuador), Dr. Humberto Persano (General Director of Mental Health of the City of Buenos Aires) and Dr. Hugo Barrionuevo (Director of Mental Health and Addictions of Argentina).
We will continue to work together and look forward to seeing you at the next edition of the congress in 2023.
CONTACT INFO: informaciones@aapi.org.ar