The World Network of Psychiatric Trainees: A Global Home of Psychiatry Residents and Fellows
By: Victor Pereira-Sanchez, MD, PhD (1-3) and Sanya Virani, MBBS, MPH (4)
(1) Department of Psychiatry, Columbia University, New York, NY, USA
(2) Department of Child and Adolescent Psychiatry, New York University Grossman School of Medicine, New York, NY, USA
(3) School of Medicine & School of Public Health, Amoud University, Borama, Somaliland
(4) Department of Forensic Psychiatry, Alpert Medical School of Brown University, Providence, RI, USA
The World Network of Psychiatric Trainees (WNPT) is a non-profit online community developed and sustained by and for physicians in all kinds of official psychiatric training programs everywhere in the world. It was founded in 2018 by Victor Pereira-Sanchez, by then a general adult psychiatry resident in Spain pursuing child and adolescent psychiatry (CAP) training overseas. WNPT currently comprises more than 360 members from 68 countries in all continents across the globe, as illustrated in the map, and serves a platform for seamless communication and collaboration among members, fostering cross-national and cross-cultural sharing of information, resources, and views relevant to psychiatric training, and opening opportunities for international research.
CAP trainees have always been a small yet very substantial part of the network. Currently, 35 WNPT members from 19 countries identify as training in CAP (almost 10% of total membership), while many others are still in earlier stages of a core/general training and have shown interest in future subspecialization in child and adolescent mental health. These members, which in relative number and activity within the organization probably overrepresent the proportion of CAP among psychiatric trainees and participate in WNPT activities along with colleagues from general adult and other subspecialty programs – including addiction, forensic, and geriatric psychiatry. This enriches the geographical and cultural diversity of the network with a layer of multidisciplinarity.
The flagship of WNPT are its Virtual Fora, online events open to members and the public providing global perspectives on psychiatry, mental health, and training. Five fora have been celebrated so far, covering the topics of systemic racism, psychiatry and mental health services and training in the Horn of Africa and in Lebanon, challenges and joys of psychiatry trainees who are mothers (1), and the mental health impact of climate change. WNPT also helps coordinate global research studies such as the Violence Against Psychiatric Trainees research, which European results were recently published (2). CAP colleagues have been deeply involved in each of those initiatives, bringing fresh perspectives from their colleagues and young patients to those.
Finally, WNPT actively engages in collaborations with other organizations related to psychiatry, mental health, and medical education. In terms of collaboration with CAP associations, WNPT has participated in social media campaigns and scientific presentations with the Medical Students and Residents' Committee of the American Academy of Child and Adolescent Psychiatry (AACAP-MSR) and provided information about its activities for its consideration in an upcoming new chapter of the IACAPAP e-textbook.
More information about WNPT activities, recordings of previous events, contact details and the signup link are available on its website (worldtrainees.org). Membership is free and open to current and incoming psychiatric trainees.
Drs. Pereira-Sanchez and Virani report no commercial conflicts of interest. They are, respectively, the Executive Director and the Associate Executive Director of the World Network of Psychiatric Trainees (WNPT); those roles are held pro bono, and WNPT is non-for-profit. The views presented in this article are those of the authors and do not necessarily reflect those of the WNPT' membership.
References
Virani S, Pereira-Sanchez V. World Network of Psychiatric Trainees Hosts Forum on Psychiatric Trainees and Mothers: Challenges and Joys. Psychiatric News [Internet]. 2021 Sep 21 [cited 2021 Oct 6]; Available from: https://psychnews.psychiatryonline.org/doi/abs/10.1176/appi.pn.2021.10.25
Pereira-Sanchez V, Gürcan A, Gnanavel S, Vieira J, Asztalos M, Rai Y, et al. Violence Against Psychiatric Trainees: Findings of a European Survey. Acad Psychiatry [Internet]. 2021 Oct 4 [cited 2021 Oct 5]; Available from: https://doi.org/10.1007/s40596-021-01539-3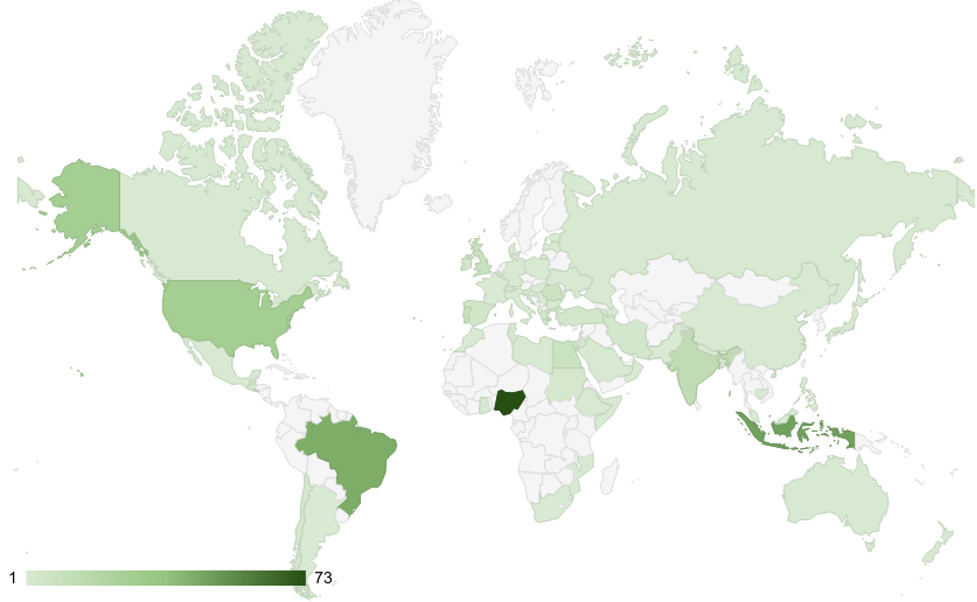 WNPT's geographical distribution of membership as of December 1, 2021