The Wellness Ambassadors Project in Schools of Qatar
By: Ali Khalil Mohammed Khalil, Ahsan Nazeer, Muhammad Waqar Azeem
Department of Psychiatry, Sidra Medicine, Doha, Qatar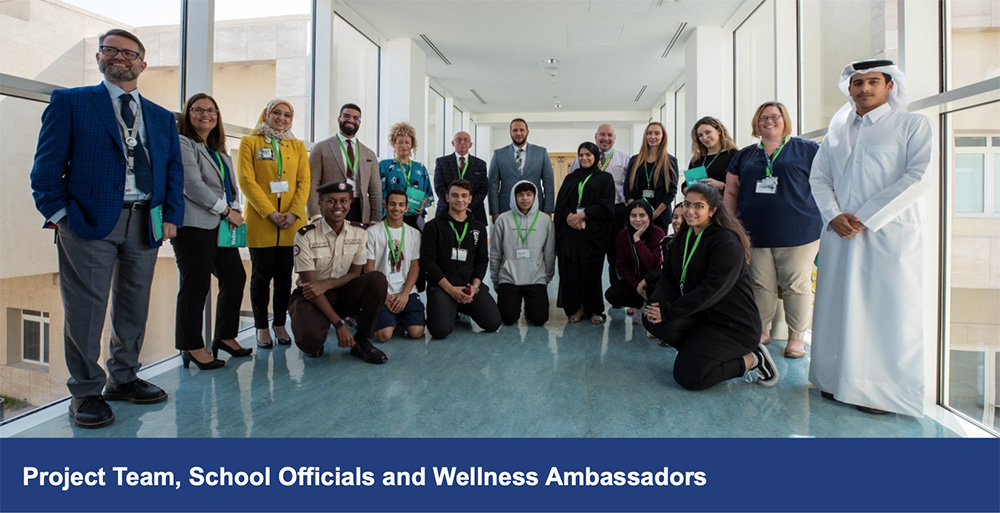 The Wellness Ambassadors project is an initiative aiming to promote mental health and reduce the stigma of mental illness in schools of Qatar. It has been evident in many studies conducted in Qatar and the region that public mental health literacy was poor. Moreover, the stigma against mental illness makes it harder for the public to seek knowledge about mental health and even hinders seeking treatment sometimes. The Wellness Ambassadors project is founded on evidence-based interventions to reduce mental illness stigma and to improve mental health literacy, education, social contact, communication, and peer services.
The pilot program of The Wellness Ambassadors was launched at select high schools, where high school students were chosen as "Wellness Ambassadors" after a rigorous interview process. Ambassadors received intensive training on bullying, depression, anxiety, suicide, and self-harm, and were also trained to refute common misconceptions about mental health. Throughout the program, continuous supervision and support were provided through school counselors and the project team.
Wellness Ambassadors role included:
Engaging in daily talks with their peers about mental health.
Posting weekly on their social media platforms.
Facilitating monthly seminars where guests were invited to talk about specific mental health related topics.
Organizing a group campaign involving all the ambassadors in the schools. The campaign for the 2019-2020 academic year was on hazards of smoking, e-cigarettes, and vaping.
At the end of the year, Wellness Ambassadors were acknowledged in a graduation ceremony.
To the best of our knowledge this is the first and only project of its kind in Qatar and the region. This project also offers the ambassadors an opportunity to advance their social and professional skills as well as serving their community.
We hope that similar projects can be implemented in the region and beyond. For more information contact Dr. Ali Khalil Mohammed Khalil. Email: akhalil@sidra.org