The 8th Helmut Remschmidt Research Seminar 2022: Soaring to New Heights in the Dubai Desert
By Bahadir Turan (Turkey), Cristina Vidal (Spain), Hasala Rajaratne (Sri Lanka) and Sara Alansari (UAE) on behalf of all HRRS 2022 fellows.
Fellows and mentors at Bab Al-Shams Resort
"It was an exceptional, out-of-the world, life-changing and transformative experience, with a 'too much giving' family.. a turning point in my life!"
A compilation of feedback from HRRS participants at the closing session
The 8th IACAPAP Helmut Remschmidt Research Seminar (HRRS) was held at the Bab Al Shams Desert Resort, Dubai, UAE from the 20th to 25th February 2022. Focusing on the theme of 'Building child and adolescent mental health capacity and service development through research', it particularly highlighted the crucial role of high quality research in the development of child mental health services in the present context of technology-driven advances. HRRS 2022 brought together a group of eight world renowned expert mentors in the field and twenty emerging young research fellows from fourteen countries in an exceptional training experience. The carefully selected HRRS 2022 fellows came from diverse backgrounds including psychiatry, psychology and education. Advances in the different domains of child and adolescent mental health services including screening and characterization of mental health disorders, early intervention and management were insightfully discussed with the focus of improving the capacity of the services in the participants' countries. It also provided us with an amazing opportunity to meet and share our own stories, making personal and professional connections with both mentors and fellows. We would like to share some highlights of this amazing journey.
The program started with a welcome session and introduction to IACAPAP and the HRRS on Sunday afternoon. Other days followed the format of morning lectures and afternoon small group work. In the morning lectures, both personal and academic journeys of the mentors and general research methods were discussed from a very broad perspective.
There were eye-opening lectures about career planning and conducting academic studies in low and middle-income countries using the opportunities in these regions. Also, how to write a good grant on which we all are curious about, and infant mental health research, on which studies have increased in recent years, was another interesting and enlightening lecture. Sharing personal experiences of what it means to be both a good clinician and a good academician has become so exciting that we were both touched and motivated while listening to these lectures. We can't explain how important and valuable it is to do things together better than the following African Proverb Dr. Hamoda shared with us: "If you want to go fast, go alone If you want to go far, go together."
This year has been a year of firsts. Our last lecture this year was the first "ask us anything" lecture. In this lecture, the mentors set us free and told us we could ask them whatever we would like to. We prepared four debatable topics for the mentors to discuss in two different perspectives, such as the influence of being a parent in our profession and the gender dysphoria diagnosis before age of twelve. It was truly a tremendous experience for us to witness. We have experienced amazing moments that will not end with telling and will remain in our memories for a long time, in a very friendly, supportive, and positive atmosphere.
In the small group sessions, we were divided in four groups each with four or five fellows and two mentors. In these sessions, each one of the fellows were encouraged to talk about their research project and challenges faced, and the mentors provided us with priceless contributions and inputs about the methodology, statistical analysis, paper writing, etc. Beyond all these technical contributions, mentors were highly motivating and inspiring, and encouraged us to move forward with our research despite the challenges we may encounter.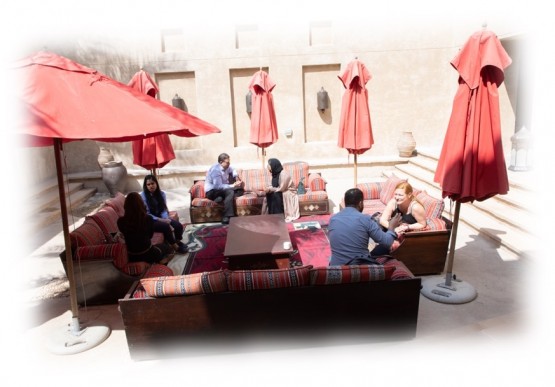 Mentors and fellows during one-to-one mentoring sessions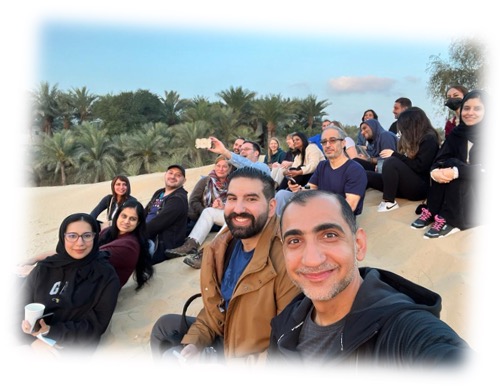 HRRS Family in the desert
The one-to-one mentoring sessions had the aim to provide a more personal and individual discussion about our difficulties, doubts, or other personal demands. All the mentors were highly receptive and were very attuned to our needs and with helping us develop in the best way possible in our environment and with our resources.
Not everything was work, we also had time to enjoy Dubai and its culture. We are deeply grateful for Dr. Ammar Albanna, who organized for us different social activities, such as walking around the desert, dune riding, camel riding, a visit to the expo 2020 and a very nice dinner on a traditional boat at the Dubai Marina (singing and dancing to the rhythm of Bella Ciao). These activities were a great opportunity to get to know each other more, fellows and mentors, in a fun and casual way. We are sure no one is going to forget Prof Petrus de Vries' art in riding a Camel!
The HRRS was an extraordinary experience that surpassed our expectations, and we will always be grateful for the time we spent together exchanging knowledge, culture, and support. The IACAPAP created one of the greatest opportunities that assembled the scientific world in the field of child and adolescent mental health in one place. The effort and time our mentors had given us, despite their duties fueled us to continue thriving throughout our research and professional journey. Nothing better than continuous success despite failures and obstacles will better reflect our sincere appreciation for them. Drs. de Vries, Albanna, Ad-Dabbagh, Falissard, Hamoda, AbuAli, Schwenck and de Jonge,we genuinely thank you for everything.
To the futurist minds and beautiful souls, the HRRS 2022 fellows, we together created an exceptional, interdisciplinary scientific community featured by diversity, inclusion, and motivation for knowledge. We will not let this stop in Bab Alshams. Let us continue preserving this international community and expand it to ensure that all children and adolescents around the globe are living a safer, happier, and healthier life.
Dubai is taking significant steps to advance child and adolescent mental health in the region. We will always come back to this city to watch its sunsets while touching the soft sand of the beaches and deserts. We can't wait to meet again in IACAPAP 2022 and we invite you all to join the fun!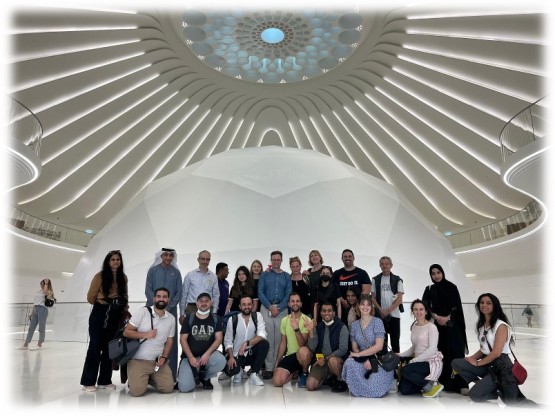 HRRS Family at the Dubai Expo
HRRS Family at the Dubai Expo