The 15th Annual Conference of the Bangladesh Association for Child and Adolescent Mental Health
By: Sifat E Syed, Treasurer, Bangladesh Association for Child & AdolescentMental Health (BACAMH)
The 15th Annual conference and General Meeting of the Bangladesh Association for Child and Adolescent Mental Health (BACAMH) was held on 14-15 November, 2022 in Krishibid Institute of Dhaka, Bangladesh. This year's theme was 'Child and Adolescent Mental Health: prioritizing service needs'. A total of 275 participants registered in the 2 day program, including psychiatrists, psychologists, paediatricians, paediatric neurologists, social workers and child development workers. BACAMH is the leading organization on child mental health in Bangladesh and is a full member of IACAPAP.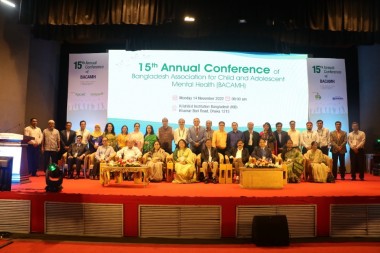 Inauguration of the 15th annual conference of BACAMH
The inaugural ceremony was chaired by Prof. Anwara Begum who is an eminent psychiatrist and writer of Bangladesh. The program was presided by president of BACAMH Prof. Nahid Mahjabin Morshed and renowned psychiatrists- Prof. Md. Golam Rabbani, Prof. Waziul Alam Chowdhury and Prof Bidhan Ronjon were special guests of the inaugural ceremony. Secretary General Dr. Niaz Mohammad Khan started the ceremony with his welcome address followed by an inspirational speech by Prof. MSI Mullick, the founder of BACAMH. President-elect Helal Uddin Ahmed closed the inauguration by his vote of thanks.
On Day 1 morning session, two plenary lectures were delivered by Paediatrician Prof. MOK Wahedi (Neurofeedback Treatment in Autism Spectrum Disorder: Clinical Experiences) and Public Health specialist Dr. Fariha Haseen (Adolescents and women with polycystic ovary syndrome (PCOS) visiting the tertiary level hospital of Bangladesh: An assessment of depression, anxiety and stress symptoms). In the afternoon session, there were two plenary lectures by Paediatric Neurologist Prof. Gopen Kundu 'SSPE: An insight to its emerging trends ' and by Psychiatrist Prof. MMA Shalahuddin Qusar Biplob on 'Prevent disorder, deposit wealth'. Keynote presentation on the conference theme was delivered by Prof. MSI Mullick, founder of the organization. A special oration is named after Late Prof. Syed Kamaluddin Ahmed, a distinguished and respected psychiatrist of Bangladesh and this year the oration was delivered by Prof. Brig. Gen. Azizul Islam.
A stimulating scientific debate was held with the title 'Social media: doing more harm than good in adolescents" and to our surprise, the team who spoke against, won. There was a cultural soiree entirely preformed by the residents of psychiatry and the event was full of singing, dancing, play and recitation.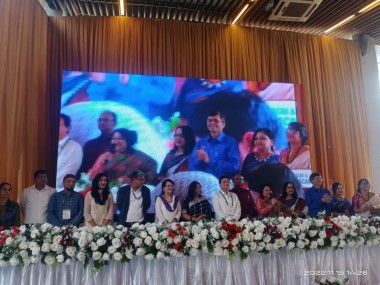 Installation of the new Executive Council after the Annual General Meeting
Three interactive workshops were conducted: 'Reframing unresourceful states with Neuro Linguistic Programming (NLP) for children and adolescents' by Andalib Mahmud, 'Non-violent resistance: Helping caregivers reduce child and adolescent problematic behaviour' by Abdullah Al-Noman and 'Dialectic Behaviour Therapy (DBT) for adolescent's emotional dysregulation' by Shelin Fatema Binte Shahid.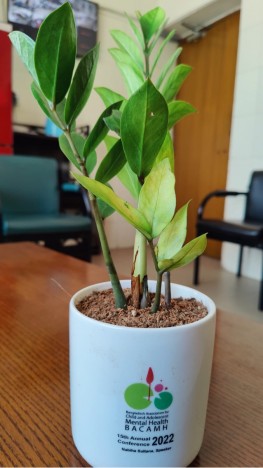 Plant crest given to all the presenters and chairs from BACAMH
The two day conference ended with the Annual General Meeting (AGM) presided by Prof. Nahid Mahjabin Morshed. The reports of the Secretary General, academic secretary and treasurer were presented and approved. Some amendments of the constitution was proposed by the by-laws committed and it was approved in the AGM. There was lively discussion on different organizational activities. The meeting ended by installation of the new committee and it was celebrated by cutting a cake.
The program was well-covered in print and electronic media, and got attention in social media and YouTube. Usual trend in Bangladesh is to provide a crest after each presentation. BACAMH this year, started a new trend of presenting a plant to all the presenters and session chairs instead of crest and this eco-friendly initiative of BACAMH was highly appreciated by everyone. The program ended with declaration of the dates of 16th annual conference on 2023 which will be held on 14-15 November, 2023 in Dhaka, Bangladesh.