President's Message: IACAPAP of the Future!
By: Professor Luis Augusto Rohde, Professor, Department of Psychiatry,Federal University of Rio Grande do Sul, Director, ADHD Program , Hospital deClínicas de Porto Alegre, Brazil
Dear colleagues,
I am very honored to have a chance to serve IACAPAP as a President for the next four years. First, it is important to highlight the extraordinary composition of talented child and adolescent mental health professionals appointed by our competent nominating committee and elected in our General Assembly in Dubai last December for the IACAPAP bureau and executive committee (EC) 2023-2027 term. We all know that the magnitude of the challenges inherent to an association with the tradition and representativeness as ours can only be faced by team work. In this sense, the stellar team composed by our bureau, elected members but also non-elected members of our EC will make our task much easier. As an example, I have to say how easy it has been to work synergically and syntonically with the Bureau in this first three months! Although Daniel is a good friend for a long time, I just met Yewande and Carmen at the end of last year. Thus, a special thanks to all Bureau and EC members for accepting to be on board!

Second, I am very grateful for the wonderful work done by the previous Bureau and EC. Besides a portfolio of very relevant initiatives to promote child and adolescent mental health worldwide, they accomplished the difficult task of reengineering the internal administrative structure of our Association creating a much more solid institution. There is a Brazilian saying that translates into English more or less like this: "If the team is winning, do not touch it". Thus, we will continue endorsing and pursuing several of the goals and initiatives proposed by the previous Bureau in their strategic vision for IACAPAP. They certainly paved the road for the next steps!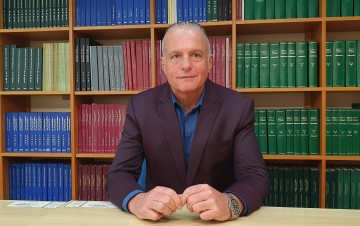 Luis Augusto Rohde IACAPAP President
Moving to goals and plans for the future, it is important to mention that the Bureau is in the process of developing the strategic plan for our term. Anyhow, we can already highlight some topics that are on our radar: a) continuing the work of the previous Bureau to achieve the financial stability of our Association, trying to become more independent from potential profits of the biennial meetings; b) strongly stimulating the engagement of a new generation of Child and Adolescent Mental Health (CAMH) professionals who have identified with IACAPAP values and mission; c) working to regain a more expressive and active participation of the key-leaders in the field of CAMH in IACAPAP; d) developing more educational initiatives for CAMH professionals from Low-Middle Income Countries (LMIC); e) increasing the active participation of national associations in the construction of an even more solid Association.
We are very fortunate to be onboard for this term in the very moment that the CAMH field received a tremendous incentive to grow. The Stavros Niarchos Foundation recently donated 55 million dollars for the Child Mind Institute – CMI (https://childmind.org/) to develop a series of initiatives that will revolutionize our field with the launching of the Stavros Niarchos Foundation Global Center for Child and Adolescent Mental Health (see more details in this Bulletin in a column signed by Professor Giovanni Salum). Since December, we have been working with the Directors of CMI to establish a partnership where IACAPAP might have a central role in making this dream happen (https://www.snfhi.org/en/updates-events/that-s-a-wrap-on-the-child-and-adolescent-mental-health-initiative-conference/). We are finalizing the last details of a Memorandum of Understanding (MOU) between CMI and IACAPAP for this partnership. Among others, we expect to work in areas like: a) developing a Global Landscape Mapping of the Child and Adolescent Mental Health to expand data already available in the ATLAS project on Child and Adolescent Mental Health of the World Health Organization (WHO), IACAPAP and World Psychiatric Association (WPA) and the Global Burden of Disease 2019 with special attention for data from Low-Income Countries; b) multicultural adaptation, implementation, and training regarding interventions for mental disorders in children and adolescents to be delivered worldwide; c) creating fellowship programs for child and adolescent mental health professionals focused on either fostering worldwide leadership in the area or developing clinical expertise in countries where resources are scarce, with extensive and long-term opportunities for supervision. The last time, IACAPAP had a chance to be involved in a program like this was almost 20 years ago in the successful partnership with WHO and WPA in the WPA presidential program on Child Mental health sponsored by the pharmaceutical company Eli-Lilly with a 1-million-dollar grant. It is important to remember that the goals at that time were not quite different from the ones established in 2023. They were: a) Increasing the awareness of health decision makers, health professionals and the general public about the magnitude and severity of problems related to mental disorders in childhood and possibilities of their resolution; b) Introducing and promoting the implementation of primary prevention of child mental disorders; c) Providing support to the development of mental health services for children with mental disorders and to the development, adaptation and use of effective methods of treatment (1). We expect to have our national associations actively involved in the initiatives of this partnership.
Our past president launched last year in partnership with the WPA Section of Child and Adolescent Psychiatry, the World Association of Infant Mental Health and the International Society of Adolescent Psychiatry and Psychology, the Infant, Child and Adolescent Mental Health Day on April 23rd. Daniel kindly accepted to continue leading the initiative from the IACAPAP side. This year the selected theme is "Stand Against Infant, Child & Adolescent Trauma". In a webinar on that day, we will have experienced clinicians and researchers addressing the child and adolescent impact of facing the war in Ukraine, and the earthquake in Turkey. We also established a partnership with the National Children´s Alliance in the US who will be addressing the child and adolescent impact of facing abuse. We strongly count on our national associations to promote related initiatives in the week before and after the day and to reverberate the relevance of the theme!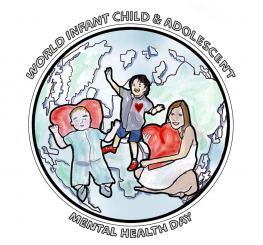 Before ending, we cannot forget to mention that IACAPAP already began to prepare for our next World Congress of Child and Adolescent Psychiatry and Allied Professions that will take place in Rio in 2024 (see more details in this bulletin). As part of a series of initiatives to promote the congress, we established a partnership with the Brazilian Journal of Psychiatry (BJP) for launching a special section dedicated to Child and Adolescent Mental Health (CAMH) in Latin America. This is a way to mobilize the CAMH community in the region for our congress (please see announcement in this bulletin). The BJP is the leading journal for mental health in Low-Middle Income Countries and the South Hemisphere, with an JCR impact factor of 6.34. There will be no fees to publish in this section and all papers will be open access.
Closing, I would like to inaugurate a final paragraph that will be present in all Presidential columns in the Bulletin during my term. I am calling it: auditable goals up to the next Bulletin! They are:
Have the strategic plan for the term finalized and published.
Define if IACAPAP will have a core PCO or only local PCOs working with national associations organizing our congresses. If we move for a core PCO, we will decide between Hanser and C-IN proposals. This topic has been in discussion in IACAPAP for more than 15 years.
Define the location of the 2026 congress.
Sign the MOU with the CMI.
Have a meeting between the Bureau and IACAPAP full and affiliate members in the first semester of 2023 to receive suggestions.
I hope you all enjoy reading our Bulletin. We prepared it very carefully and enthusiastically for you!
References:
1) Okasha A. The Presidential WPA Program on Child Mental Health. World Psychiatry. 2003 Oct;2(3):129-30.