Obituary | Dr Kosuke Yamazaki, 1937-2023
By: Yukiko Kano MD, PhD, Department of Child Neuropsychiatry, Graduate School of Medicine, The University of Tokyo and Department of Child Psychiatry, The University of Tokyo Hospital
Dr Kosuke Yamazaki, a Japanese child psychiatrist who had long been involved in IACAPAP activities and was working internationally, passed away on April 21 this year.

Dr Yamazaki was born in Hokkaido, Japan on December 1, 1937. After graduating from Hokkaido University School of Medicine in 1962, he worked in Hokkaido gaining experience as a psychiatrist and then as a child psychiatrist. He then served as a professor in the Department of Psychiatry, Tokai University School of Medicine from 1982 to 2003.

In Japan, he played a leading role in both clinical practice and research as a specialist in developmental disorders, especially autism.
Photo at the 12th IACAPAP Congress in 1990
He was also involved in administration of The Japanese Society for Child and Adolescent Psychiatry (JSCAP) as a Director from 1975 to 2003, and served as President of JSCAP from 1997 to 2003. Notable among his activities related to academic societies was his service as Secretary General of the 12th IACAPAP Congress held in Kyoto, Japan in July 1990. Dr Yamazaki vigorously negotiated with domestic and foreign officials for the IACAPAP Congress to be held for the first time in Japan and in Asia. As a result, the 12th IACAPAP Congress became a place of rich exchange with approximately 1,400 participants from 41 countries. In recognition of these international activities, he served as Vice President (1994 - 1996; 1998 - 2004), Secretary-General (1996-1998), and Counsellor (2004-2006) of IACAPAP.

His involvement in establishment of The Asian Society for Child and Adolescent Psychiatry (ASCAPAP) and serving as its first Secretary-General is also notable.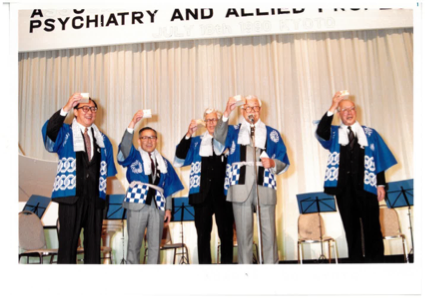 Photo at the 12th IACAPAP Congress in 1990
Unfortunately, Dr Yamazaki passed away just before the 11th ASCAPAP Congress which was held in Kyoto in May of this year, but we feel strongly that we must continue to work toward better mental health for children and adolescents in Japan, Asia, and the world by following in his footsteps.

We sincerely pray for the peace of Dr Yamazaki's soul.