Leading Child Mental Health Organisations Call for Global Action Against Infant, Child and Adolescent Trauma
Media Release
Singapore – Media OutReach – 30 May 2023 - Research has shown that most mental disorders develop in childhood and adolescence before the age of 25, with one-quarter of years lived by young people with disability due to mental and substance use disorders.

To address this pressing concerns and mobilise global efforts, the International Association for Child and Adolescent Psychiatry and Allied Professions (IACAPAP), International Society for Adolescent Psychiatry and Psychology (ISAPP), World Association for Infant Mental Health (WAIMH), and World Psychiatric Association Child and Adolescent Psychiatry (WPA-CAP) have jointly declared April 23 as the World Infant, Child and Adolescent Mental Health Day (WICAMHD).

This year witnessed the second annual WICAMHD event under the theme of Stand Against Infant, Child and Adolescent Trauma.

Children and adolescents form one third of the world's population. Childhood and adolescence are foundational years characterised by growth, learning and carefree exploration. However, many around the world are inflicted by trauma and crises – adverse experiences which research has shown to have long-lasting effects on their mental and physical well-being.
Studies also show that about 15 percent to 43 percent of girls and 14 percent to 43 percent of boys experience at least one traumatic experience.

Adverse Childhood Experiences (ACEs) are also contributing factors in the development of mental disorders in adult years. The indirect and compounding effects of this is a ballooning economic burden on societies, especially in the areas of healthcare and productivity loss.

Children in war zones and natural disasters are particularly vulnerable. During the second annual WICAMHD event, three renowned speakers shared their expertise on childhood trauma.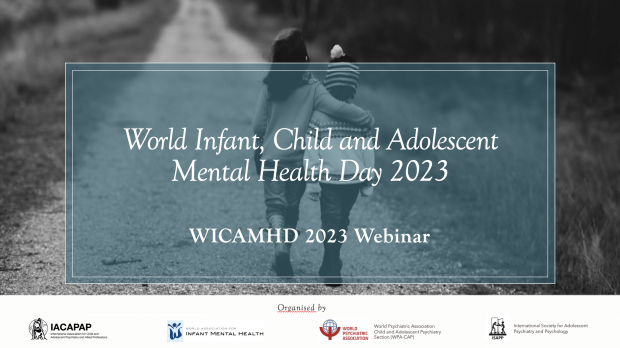 World Infant, Child and Adolescent Mental Health Day 2023 (WICAMHD) Webinar
Dr Dennis Ougrin, Consultant Child and Adolescent Psychiatrist, Visiting Professor of Child and Adolescent Psychiatry and Global Mental Health, Institute of Psychiatry, Psychology and Neuroscience, King's College London discussed the impacts of the war in Ukraine.

Dr Fusun Cetin Cuhadaroglu, Professor of Child and Adolescent Psychiatry, Hacettepe University Faculty of Medicine, Ankara, Turkey presented on the traumatising effects of the recent earthquake in Turkey.

Finally, Dr Michelle Miller, Director of Mental Health Programs, National Children's Alliance, United States highlighted evidence-based response for children subjected to trauma. This was followed by a panel discussion.

In addition to the main event, several national organisations held events and advocacy efforts commemorating WICAMHD.

These include the Indian Association for Child and Adolescent Mental Health (IACAM), the Lithuanian Society of Child and Adolescent Psychiatry (LVPPD), the American Academy of Child and Adolescent Psychiatry (AACAP), the Austrian Society of Child and Adolescent Psychiatry, Psychosomatics and Psychotherapy (ASCAP) and the Section of Child and Adolescent Psychiatry, College of Psychiatrists, Academy of Medicine, Singapore (SCAP).

A recording of the event can be viewed at https://www.youtube.com/watch?v=ZoOu7tm9oQU

- END -

International Association for Child and Adolescent Psychiatry and Allied Professions (IACAPAP)
International Society of Adolescent Psychiatry and Psychology (ISAPP)
World Psychiatric Association Child and Adolescent Psychiatry (WPA-CAP) section
World Association for Infant Mental Health (WAIMH)