"Just when I have all the right cards, everyone else started playing chess": A 2020 Reflection from Pakistan
By: Dr. Aisha Sanober Chachar, MBBS FCPS (Psychiatry), Clinical Fellowship, Child & Adolescent Psychiatry (Aga Khan University), Consultant Child and Adolescent Psychiatrist, Medical Director at Alleviate Addiction Suffering (AAS) Trust, Pakistan, Helmut Remschimt Research Seminar Fellow, 2019
"With 2020 ending, I aim to narrate my reflections and share a holistic journey of my experience"
In June 2020, I graduated from the only Child and Adolescent Psychiatry Fellowship Program in Pakistan. With the demanding nature of the program, I dedicated my last six months of fellowship for faculty position interviews. Least I knew was that we would be hit by a global pandemic that would challenge our entire reality. Even though we like to believe that the current crisis can bring in opportunities for personal and professional growth, difficulties for some may outweigh these benefits. Especially for trainees who were about to graduate in June 2020, this has been a particularly challenging time. My sister tried to capture my struggle and painted a symbol of hope for me.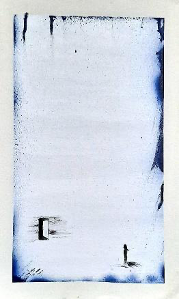 In a HBR article by David Kessler; That Discomfort You're Feeling Is Grief, Kessler talked about this profoundly insightful phenomenon happening in these times; collective grief in the air, anticipatory grief, collective loss of safety, stages of grief and acceptance, open-ended nature of the pandemic, acknowledging the feeling, and fear of gang of feelings. To me it sounded like a Pre-Traumatic Stress Disorder, living with an apprehension of upcoming trauma, every-day, in every mundane task we do, even in our capacity to relate as a human. I believe, at a collective level, this terror feels like almost regressing to our early developmental stage where we have lost the comprehension of the universality of death, simultaneously forced to confront the inevitability and generous inclusiveness of death for everyone regardless of their age, gender, class or citizenship. We emerge from a social-relational matrix. When we are forced to go into isolation, we have immense difficulty with coming to terms with the trauma of loneliness; situation that in a subtle way rob us from the absolutism of daily life.
The COVID Pandemic in no time has collectively given us a reality check and here we are perplexed; it is happening to us!! All our reassuring narratives and stories that soothed us have been questioned. Our reality has been questioned. Truth came very abruptly. The things we took for granted are now no more reliable. The belief that we had in the world, our naive realism or in some cases optimism has been taking away and we are terrified. Death was a distant entity. The truth of our mortality, our vulnerability, our feeble existence in the face of this adversity. Reminds me of something I read years ago: 'just when I have all the right cards, everyone else started playing chess'. We thought we had figured it all out.
Uncertainties around career stability, co-leading online Balint groups, working from home (WFH), zoom meetings, coming home from clinical duties with an added worry of protecting my elderly parent, increasing academic pressure to be productive, writing papers, generating data, are few stressors to name. The use of PPE and switching to teleclinics remained a challenge to protect the therapeutic alliance. In some of my inpatient consult encounters, I could sense the subtilties and nuanced change of dynamics while using PPE. Teleclinics raised the concerns around decorum of online consultations, ethical guidelines, especially the unease I felt around confidentiality during online sessions.
I fully acknowledge that in the acute phase, an outbreak can understandably instill fear. Although personal reactions may differ, constant worry about the possibility of acquiring a disease can profoundly modify daily life. To cope up with the situation, I penned down a reflection on Fear of Death, Quaranteen with my Teen nephew, doctors as soldiers, death anxiety among psychiatry trainees. I also co-created resources like practical tips of COVID-19 survivors; home, Urdu Translation of IACAPAP resource REMEMBER, and much more.
Additionally, with the influx of media interview requests, I reflected on my role as a medical professional and how it differs from the role of a journalist or a commentator. Regardless of what roles we play in health care delivery, when we use our medical knowledge and professional values that affect the care and well-being of clinical populations, we are functioning within the sphere of our profession. It is incredible how a clinician's conduct affects not only the general population but also one's medical colleagues or their affiliated institutions even when they fulfill roles that do not involve direct patient care provision.
Lessons learnt throughout this ongoing crisis are profound and we must be careful what we aim to achieve by the time this Pandemic ends: a stable healthcare system or a resilient one. The former means one crisis is over; there is no damage to our system, whereas the later implies a profound sense of adaptability and growth once it is all over. Clinical teams are stressed out, and it is only the harmony at the workplace that could take us forward. Selfcare is paramount, and what I have seen is that positive support and humor with colleagues give the strength to do the work we have to do.
There is one more truth that we cannot deny: by the end of this crisis, we will evolve in different ways. There will be an evolution, but would it be a growth or adaptation, is up-to us. Our ancestors have faced this. History tells us that we have survived such outbreaks. This realization does not pacify the suffering but nudges the complacency we have been in. Now that we have all collectively been thrown into this, we can either use the opportunity to evolve or lose it.