IACAPAP – Ukraine Partnerships
By Igor Martsenkovsky, MD, PhD
Head of the Child Section of Ukrainian Association of Psychiatrists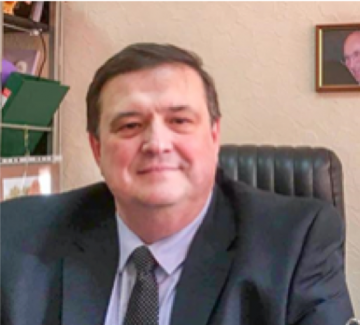 Since dissolution of the Soviet Union, Ukraine's academia has experienced various challenges with training, research, and workforce development in child and adolescent psychiatry, psychology, and neurology. Growing partnerships with IACAPAP have helped Ukraine's educators, clinicians, and researchers cope with these challenges, while developing mutually beneficial relationships with international colleagues. During the past several years, these collaborations produced inspiring results: IACAPAP's e-Book of Child and Adolescent Mental Health has been translated into Russian, and many IACAPAP experts have partnered with Ukrainian experts to lead training workshops for child psychiatrists and neurologists in Ukraine.
In March 2018, IACAPAP's mentors participated in the conference "Days of French Neurology and Psychiatry in Ukraine" that was held in Kyiv.
Among other presentations, Vice-President of IACAPAP, Kerim Munir, MD (Boston Children's Hospital, Harvard Medical School, USA) discussed the economic burden of autism spectrum disorders (ASD). Dr. Munir presented data on economic implications of medical and social interventions for ASD across the lifespan and around the world. Dr. Munir's presentation galvanized great interest in the development of a comparable Ukrainian management model for ASD. Ukrainian child neurologists and psychiatrists learned that indirect non-medical costs of autism in adulthood exceed the costs of medical and educational support in childhood. Early interventions reduce the total lifespan costs due to improved outcomes in social and work adaptation.
This discussion attracted attention of stakeholders from the administration of Ukraine's President and the Ministry of Healthcare. As a result, policy makers and thought leaders in child psychiatry and neurology began to explore development and implementation of cost-effective early childhood interventions in Ukraine.
Olivier Bonnot, MD (University of Nantes, France) urged psychiatrists to learn more about early diagnosis of hereditary metabolic disorders since some of the schizophrenia and ASD symptoms can be caused by neurometabolic disorders.
In November 2018, the Institute of Psychiatry of the Ukrainian Ministry of Healthcare organized a round-table discussion on the problems of pediatric psychopharmacotherapy with the support of IACAPAP, Ukrainian Association of Psychiatrists, and Ukrainian National Medical University. Boris Lorberg, MD, MBA (University of Massachusetts, Worcester, USA) delivered a keynote presentation, "Pediatric psychopharmacology through the evidence lens."
Later that week, Dr. Lorberg met with Ukrainian psychiatrists and healthcare stakeholders to discuss general models of psychiatric care for adolescents as well as models for pre-adjudicated and adjudicated adolescents. All parties agreed that there is an urgent need to create such services in Ukraine.
Dr. Lorberg also discussed "Interdisciplinary Collaboration in Mental HealthCare" with the Psychology Department students and faculty at the Kyiv National University (KNU). This discussion covered child psychiatry clinical trial evidence for combining psychopharmacology and psychotherapy as well as importance of a multidisciplinary team approach.
In December 2018, IACAPAP's representatives and Ukrainian experts discussed the pediatric neuropsychiatry challenges at the Third Annual Ukrainian International Neuropsychiatry Conference in Dnipro. The topics discussed included assessment tools, pediatric depression, epilepsy, autism spectrum disorders, degenerative diseases of the nervous system, and disorders of motor and speech development.
IACAPAP's Matthew Hodes, MD, MBBS, PhD (Imperial College, London, UK), discussed "Depression, Anxiety Disorders, and OCD In Children and Adolescents: Main Comorbidities and Main Treatment Points."
IACAPAP's Gordon Harper, MD (Harvard Medical School, Boston, USA), devoted his talk to "Moving Treatment Planning: Review of Conventional Approaches and Consensus-Based Focal Treatment Planning."
In February 2019, KNU Psychology Department held a Forum "International Consultations on Collaboration for Reforms in Ukraine's Child Mental Healthcare System." This conference organized by Independent Association of Psychologists and Ukrainian Association of Psychiatrists with the support from IACAPAP and Verkhovna Rada's (Ukraine's Parliament). It brought together disciplines of child psychiatry, psychology, social work, thought leaders in regional and national governance.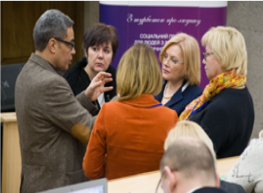 Discussions and workshops focused on both clinical and policy topics, such as educational inclusion of students with disabilities in Ukraine, discipline role definitions, interdisciplinary collaboration, and legal aspects of violence and delinquency.
Naoufel Gaddour, MD (University of Monastir, Monastir, Tunisia) led an ASD management workshop on guidance for parents and professionals. He described skill building interventions for joint attention, imitation, symbolic play, declarative skills, etc, for children with ASD.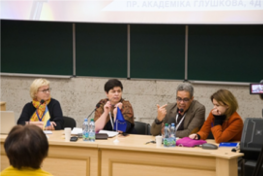 Dennis Ougrin, MD, PhD, MBBS, MRCPsych, PGDip, (King's College, London, UK) discussed self-harm in adolescents. He described a vicious cycle diagram of self-harm and ways of breaking this cycle with psychotherapeutic interventions.
Boris Lorberg, MD, MBA spoke about the role of residential adolescent psychiatric services in the overall continuum of mental healthcare. He also reviewed the evolution of adolescent residential treatment approaches – from reformatory obedience traditions to psychoanalytic therapy, to evidence-based models of care, such as DBT and patient/family-centered interventions.
In conclusion, collaboration with IACAPAP colleagues has greatly helped Ukrainian clinicians enhance clinical skills. IACAPAP has helped Ukrainian policy makers learn about the successes and challenges of mental health policy in other countries. This collaboration has also engaged Ukrainian early career scientists in international research programs.
The role of IACAPAP's initiatives and dedication of its mentors to improving quality of mental healthcare for children in Ukraine is greatly appreciated and cannot be overestimated!