Climate change: A Call to Action from AACAP Members and Leadership
By: Deepika Shaligram MD, Psychiatry & Behavioral Sciences, Boston Children'sHospital, Boston MA. Joshua R. Wortzel, MD, MPhil, MS(Ed), Child andAdolescent Psychiatry Fellow at Brown University, Providence RI. ElizabethPinsky, MD, Psychiatry, Massachusetts General Hospital, Boston, MA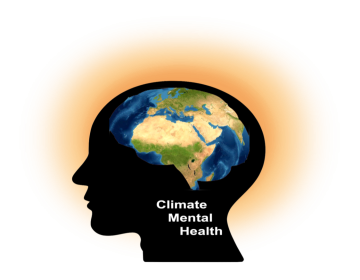 The logo was created by Joshua Wortzel.
The human health consequences of climate change are accelerating in every corner of the world and span every system of the body: heat-related illness, injuries and deaths related to extreme weather events, asthma and allergies, cardiovascular disease, expanding vector-borne illnesses, and threats to the safety and availability of food and water. Children are disproportionately vulnerable to all these negative health outcomes due to their immature physiology and dependence on adult caregivers (1).
There is increasing recognition that children are also disproportionately vulnerable to the mental health impacts of climate change. As extreme weather events such as hurricanes, typhoons, floods, wildfires, and heat waves become more frequent and severe, so do the associated acute traumas: injuries and deaths; near-death experiences; destruction of homes and community infrastructure; and lack of access to food, shelter, and medical care. Negative outcomes associated with these events include post-traumatic stress disorder, anxiety, depression, substance-use disorders, and increased interpersonal violence including gender-based violence and child abuse.
Climate change also inflicts chronic psychological stress through slow-moving disasters such as drought, forced migration, and loss of land to rising seas or encroaching deserts. The US Surgeon General's 2021 Advisory "Protecting Youth Mental Health," identified climate change as one of the underlying factors behind the current pediatric mental health crisis (2). Just this year, climate disasters including deadly heat waves in Europe, wildfires in the US and Canada, and devastating flooding in Pakistan (3) have resulted in acute trauma and stressors with potential mental health consequences in children and families.
Children are not the only group disproportionately vulnerable to these mental health harms. Climate change is fundamentally a crisis of inequity, with those most responsible for historical emissions (the Global North, high-income countries and people, current adults) the most insulated from harm. While ultimately no one can escape climate change, the burdens will fall soonest and heaviest on those oppressed by longstanding social, economic, and political inequities: the poor, people of color, Indigenous peoples, children, people with disabilities, and those identifying as female. The environmental justice movement strives to address this imbalance by reducing the increased exposure to ecological harms experienced by minoritized and marginalized communities.
As child psychiatrists, we have a unique responsibility to mitigate the climate crisis through clinical interventions, research, education, and advocacy. In the US, the American Academy of Child and Adolescent Psychiatry (AACAP) has demonstrated leadership. In keeping with AACAP's mission to promote the healthy development of children, adolescents, and families, and in alignment with AACAP's commitment to advance health equity, the organization is acting at multiple levels including:
AACAP has created a listserv for members interested in advocacy, education, research, or clinical aspects of climate change. It represents a grassroots effort within membership to increase awareness and action.
AACAP published a "Facts for Families" in March 2022 to provide a simple guide about mental health impacts of climate change on youth and practical solutions for caregivers (5).
Like IACAPAP, AACAP has included multiple presentations focused on the intersection of psychiatry and climate change at its annual meetings over the past few years.
AACAP is launching a Resource Group on climate change to enhance committee collaboration and progress on climate and health focused initiatives in the research, clinical, education and advocacy domains.
AACAP has joined the Medical Society Consortium on Climate and Health, a coalition of professional organizations dedicated to mobilizing doctors to advocate for equitable climate and health solutions. The Consortium's member medical societies include the American Medical Association, American Academy of Pediatrics, American Psychiatric Association, American Association for Community Psychiatry and American Academy of Family Physicians and together represent over 600,000 healthcare professionals and more than 70% of US physicians.

Climate change, of course, respects no geopolitical borders. Child and adolescent psychiatrists globally have the same responsibility to raise awareness about the health consequences of climate change and the opportunity to shape a healthy future for our children. Broadly, we must:
Develop and disseminate best practices for "climate aware" child psychiatrists
Help youth channel strong, sometimes difficult emotions about climate change to sustain hope and action, as opposed to denial or paralysis
Foster research on climate change and child mental health by elucidating the scope of the problem and developing interventions for climate related mental health concerns
Create and implement climate and health curricula at every level of training, including continuing medical education for child psychiatrists, to equip our workforce with skills to recognize and respond to mental health outcomes related to climate change
Advocate for healthcare policy, public health leadership, and education of the public about the health consequences of climate change, the health benefits of climate solutions, and the overarching need for green energy solutions.
There will be a joint virtual meeting in April 2023 including representatives from the Child and Youth Arm of the Climate Psychiatry Alliance, the Climate Psychology Alliance North America, and the AACAP Resource Group on Climate Change. We hope this coalition will offer opportunities for collaboration and progress between the many individuals and groups already acting on climate change and child mental health. All IACAPAP members are enthusiastically invited to join us. For further information, please contact Elizabeth Pinsky at epinsky@mgh.harvard.edu or contact our listserv at climate@aacap.org

References
Perera F, Nadeau K. Climate Change, Fossil-Fuel Pollution, and Children's Health. N Engl J Med. 2022;386(24):2303-2314.
Office of the Surgeon General (OSG). Protecting Youth Mental Health: The U.S. Surgeon General's Advisory [Internet]. Washington (DC): US Department of Health and Human Services; 2021. PMID: 34982518.
The 2022 report of the Lancet Countdown on health and climate change: health at the mercy of fossil fuels. The Lancet. October 2022. https://doi.org/10.1016/S0140-6736(22)01540-9
Wortzel JR, Guerrero APS, Aggarwal R, Coverdale J, Brenner AM. Climate Change and the Professional Obligation to Socialize Physicians and Trainees into an Environmentally Sustainable Medical Culture. Acad Psychiatry. 2022 Oct;46(5):556-561. doi: 10.1007/s40596-022-01688-z. PMID: 35879599; PMCID: PMC9312321.
AACAP Facts for Families (2022). Climate Change and Eco-anxiety in youth. No. 137; March 2022.
https://www.aacap.org/AACAP/Families_and_Youth/Facts_for_Families/FFF-Guide/Climate_Change_Eco-Anxiety_Youth-137.aspx?WebsiteKey=a2785385-0ccf-4047-b76a-64b4094ae07f
Disclosures: The authors declare no conflict of interest.