Child and Adolescent Mental Health in Nepal
By Dr Arun Raj Kunwar, (MBBS, MD Psychiatry, Fellowship Child and Adolescent Psychiatry), Senior Consultant Child and Adolescent Psychiatrist, Head of Child and Adolescent Psychiatry Unit, Kanti Children's Hospital, Kathmandu, Nepal
Dr Gunjan Dhonju, (MBBS, MD Psychiatry, Post Doctoral Fellowship Child and Adolescent Psychiatry), Consultant Child and Adolescent Psychiatrist, Child and Adolescent Psychiatry Unit, Kanti Children's Hospital, Kathmandu, Nepal
Dr Utkarsh Karki, (MBBS, MD Psychiatry, Senior Resident DM Child and Adolescent Psychiatry, Department of Child and Adolescent Psychiatry, National Institute of Mental Health And Neuro Sciences (NIMHANS), Bengaluru, India
BACKGROUND
Nepal is a country in South-east Asia that has a population of 30 million, of which more than 42% are children and adolescents. Nepal has recently undergone a decade long conflict, followed by major earthquake in 2015, along with yearly seasonal natural calamities. Being a country of great topographical and cultural diversities, Nepal is one of the Low and Middle Income Countries (LMICs) that has various challenges, among which mental health of the population remains marginalized. Child and adolescent mental health (CAMH) in Nepal is even more neglected, despite this segment comprising almost half of the population. Child and Adolescent Mental Health (CAMH) unit at Kanti Children's Hospital (KCH) has been providing CAMH services since 2015. This is the only full-time child and adolescent psychiatry outpatient clinic (CAP OPD) in Nepal. To date, there is no dedicated CAMH inpatient unit in Nepal. If a child needs admission to a hospital due to psychiatric illness, they are often accommodated in an adult psychiatric inpatient facility, which is against international standards and a violation of children rights.
Over the course of the last 4 years, CAMH unit at KCH has worked as the focal point for the development of CAMH services all over the country. We have been able to make steady progress in terms of service provided at the CAP OPD, as well as increase community outreach through various programmes. Our aim is to develop this unit to be a Centre of Excellence for CAMH in Nepal, not only providing exceptional clinical services, but also providing training and pioneering research.
Our team at CAP OPD at Kanti Children's Hospital is led by Dr. Arun Raj Kunwar (a child and adolescent psychiatrist) and comprises nine members. Other members are Dr Gunjan Dhonju (child and adolescent psychiatrist), Dr Jasmine Ma (MD Psychiatry, PhD Scholar), Dr Alok Jha (MD Psychiatry), Ms Sirjana Adhikari (Clinical psychologist), Ms. Isha Bista ( Clinical Psychologist), Ms Narmada Devkota (Clinical Psychologist, PhD Scholar), Mr Rampukar Sah (Clinical Psychologist), Dr Romen Ranjit (MBBS, Masters in Public Health). Two other Psychiatrists (Dr. Utkarsh Karki and Dr Amit Jha) are currently in training in Child and Adolescent Psychiatry at NIMHANS, India.
HISTORY OF CHILD AND ADOLESCENT MENTAL HEALTH SERVICES IN NEPAL
First Child Guidance clinic was established at Tribhuvan University Teaching Hospital in Kathmandu in 1998 and ran for half a day once weekly. In July 2015, the first full time child and adolescent psychiatry (CAP) OPD was established in Kanti Children's Hospital, under the leadership of Dr Arun Raj Kunwar. The OPD is still the only full time CAP service provider in the country. Almost half of the cases seen at the clinic come from outside the capital city of Kathmandu, including some from remote areas of Nepal.
In the first 6 month of establishment the clinic provided services to more than 600 children and adolescents (C&A). In the year 2018 the clinic saw 2089 patients and that increased to 4503 in 2019.
The services provided in the OPD include psychological and psychiatric assessments, consultation and treatments for children and adolescents with mental disorders, including those with developmental disorders (children with intellectual disability and autism).
Liaison with other departments at KCH to provide consultation services and supervise their doctors / staff in how to take care of children with mental problems co-morbid with their existing physical problems.
We also coordinate with schools and community services, through letters and recommendations to assist the child and adolescents with mental health issues.
TELE-PSYCHIATRY FOR CAMH SERVICES
At CAP OPD many children and adolescents are brought from remote areas of Nepal (for some it may take up to 5 days to come to Kathmandu). These cases are currently managed and followed by Telephone-Psychiatry.
Telephone-Psychiatry: Nepal has high penetration of mobile phones. For patients coming from remote areas who would require monitoring and follow up, we provide them dedicated phone numbers which they can call for follow up and emergencies.
Tele–Video Consultations: Recently we have started Tele-Video consultations at a child care home in the Kavre district (about 50 Km away) where C&A can have direct consultations with the members of our team. This helps to reduce travel time and cost, and helps to reach more children in need.
We plan to extend more Tele-Psychiatry consultations all over Nepal in coming years.
ESTABLISHMENT OF THE FIRST CAMH INPATIENT UNIT
By the end of this year, the construction of a separate building for Child and Adolescent Psychiatry Unit within KCH will be completed. This will be the first complete CAP unit in Nepal that will provide inpatient as well as OPD services.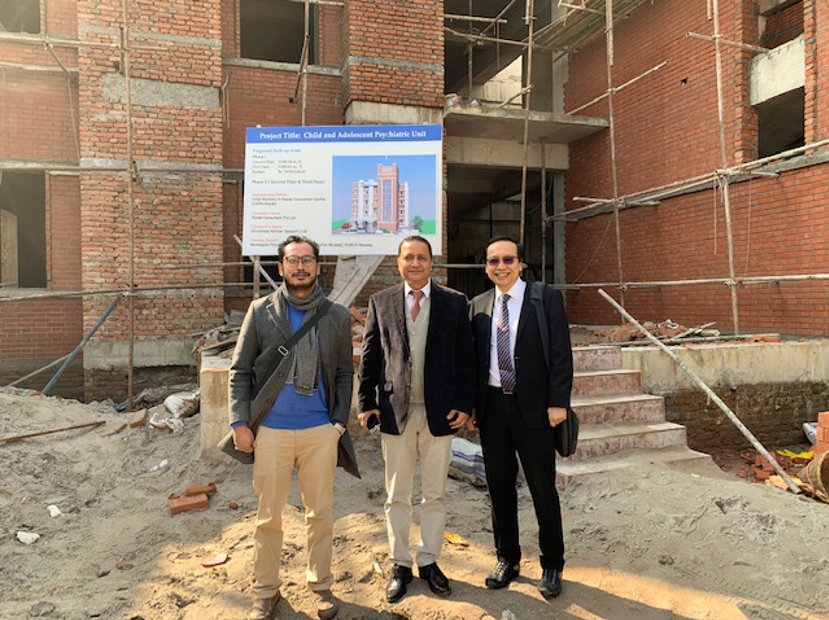 ACADEMIC PROGRAMS AND SEMINARS
Continuing Medical Education (CME) at KCH: Regular CMEs have been conducted by the Child Psychiatry OPD once a month. This is provided to the entire KCH staff and has helped to increase awareness of CAMH to other doctors and staff at KCH.
An International Conference on Child and Adolescent Mental Health Nepal 2018 (ICCAMHN 2018). An International Conference on Child and Adolescent Mental Health Nepal 2018 (ICCAMHN 2018) was held in Kathmandu on 2-3 Nov 2018. The conference theme was "mental health for all children and adolescents". It was conceptualized and organized in collaboration with the highest levels in the Government of Nepal. The Closing of this conference was attended by Hon. State Minister of Health and Population Dr. Surendra Kumar Yadhav.
Training & Supervision: Group Therapy Supervision is regularly provided to psychosocial counselors, working at different schools and orphanage homes.
Training in child psychiatry for Residents in Psychiatry/Psychology from all over Nepal: The OPD also services as a training site for psychiatry/psychology resident trainees. As our OPD is the only site in the whole of Nepal that is sufficiently equipped to provide exposure in child and adolescent psychiatry, psychiatry resident doctors from other medical colleges have been coming for postings in the OPD.
ESTABLISHMEN OF TRAINING PROGRAMS FOR PROFESSIONS WHO WORK IN THE FIELD OF CAMH
There is a severe lack of trained professionals in the field of CAMH in Nepal. In the long run we plan to start our own teaching programs in Nepal for psychiatrists, psychologists and other allied health workers.
COMMUNITY BASED PROGRAMMES AND OUT-REACH:
Child and Adolescent Mental Health Care Package
Considering the gap in the needs and services for children and adolescent with mental health issues, our team developed a child and adolescent mental health care package (CAMH-CP). This project was funded and done in collaboration with UNICEF.
The CAMH-CP comprised of development of manuals on CAMH which includes 10 CAMH disorders, basic psychosocial support and pharmacology components.
This was developed as an adaptation of the MHGAP 2.0 to meet the needs with respect to the Nepalese context.
The project forms a referral chain and an integrated CAMH service network from the primary, secondary to tertiary level.
It provides the opportunity for early detection of CAMH cases, basic psychosocial intervention, pharmacological intervention and referrals when needed.
Trainings on CAMH given to doctors and para-medical professionals, and orientations to teachers, female community health volunteers and locals on CAMH issues.
Appointment of a CAMH coordinator/ counselor at the municipality levels, by the local government.
Training of trainers on CAMH issues
Advocacy on establishment of Early Child Developmental Centers at Municipality levels.
This programme has already been piloted at Mithila Municipality of Province 2 in Nepal for a period of 6 months with promising results. This has now been extended this year to 6 other municipalities and will provide services to about 150,000 child and adolescents.
Life Skills Education Programme
Our working with schools has helped us to understand the situation of schools and encouraged us to develop a life skills based curriculum for schools. This program is an adaptation from World Health Organization (WHO) recommended Life skills education programme.
This aims to make the children more capable of dealing with life challenges, preventing mental health issues, and promoting better productivity and resilience.
Development of a curriculum based on WHO life skills,
Sessions are conducted in schools, once a week throughout the school years from kindergarten to Grade twelve.
Currently, we have completed the development of training manuals for all grades and the programme is being piloted in one school, with the aim to expand in other schools in the coming years. Ultimately, we aim to advocate with the government of Nepal to have Life Skills Based curriculum in all schools throughout Nepal.
Training of Child Specialists in the Juvenile Court System
Nepal lacks enough human resources with knowledge on child and adolescent psychology. This knowledge is important to understand cases of children and adolescents in conflict with the law.
The team in consultation with the National Judicial Academy of Nepal has developed a manual on CAMH issues in relation to conflict with law.
Trainings are now conducted in coordination with the National Judicial Academy of Nepal, for child specialists to assist in such cases in the juvenile justice courts in Nepal.
Out-reach Services:
Our team also provides outreach services to the children and adolescents in the community. These services are in the form of school visits for assessment and interventions for children. Some of these are regular visits that happen weekly, and some are as per need.
CAMH Rapid Response Programme (CAMH-RRP) is a program that responds to CAMH crisis situations.
In case of CAMH related crisis, the members of the team deploy to the site and assist in management of the cases.
For example, the team has intervened in three schools with cases of mass conversion disorder, which had resulted in temporary school closure.
Another visit was made to Bara district after it was severely affected by a tornado
RESEARCH
The following research have been conducted by the team:
Epidemiological study on emotional and behavioral problems of school children of different ethnic groups
This is a PhD project by Dr. Jasmine Ma, in collaboration with the University of Tromsoe, Norway, with Dr. Cecilie Javo, Dr. Arun Raj Kunwar and Dr. Pashupati Mahat, PhD as supervisors.
This is a nationwide epidemiological study comprising more than 4400 subjects from all over the country.
The preliminary results show 18% of school going children in Nepal have some form of mental health problems. This will be published in a peer reviewed journal.
Development and Validation of ADHD diagnostic scale for Children in Nepal
This is a PhD project by Narmada Devkota at Tribhuvan University, Nepal, with Prof. Dr. Shishir Subba and Prof. Dr. Nandita Sharma.
This has been published in the Journal of Nepal Health Research Council in 2018.
Resource Mapping and Needs Assessment for Child and Adolescent Mental Health Services in Nepal
This is the thesis by Dr. Gunjan Dhonju during his fellowship in Child and Adolescent Psychiatry, at National Institute of Mental Health and Neuro Sciences, Banglore, India, with Prof. Dr. Shekhar Seshadri as his supervisor. This included an online desk review of published literature related to child and adolescent mental health in Nepal.
CHALLENGES/ LESSONS LEARNED AND THE WAY FORWARD
The awareness about child and adolescent mental health is poor among parents, teachers, medical fraternity, local authorities, and government bodies. There is very little funding from the government for child mental health. Lack of skilled human resources is another area of challenge.
With efforts, it is possible to get cooperation from the different levels of government and non-government bodies, local authorities and community members. The training at Mithila Municipality for Capacity Building was effective in training the health paraprofessionals and doctors on CAMH issues, and has encouraged us to step up the training to cover more areas in the coming year.Coordination with schools has helped us to understand the situation of schools and encouraged us to develop a life skillsbased curriculum for schools.Working with parents to improve the home environment greatly enhances the mental health of children and adolescents. We have learnt that a holistic approach is needed for promotion of child and adolescent mental health, and for early detection and management of mental health issues in the young population.