Bringing the Science of Art to #IACAPAP2022
By: Dr Lakshmi Sravanti, Consultant Child & Adolescent Psychiatrist, India
Is there really science in art? Is there a place for art in a scientific meeting and more importantly in the field of child and adolescent mental health (CAMH)?
Traditionally, the two disciplines of art and science may have been treated as two individual and non-interacting disciplines. However, not only do these disciplines often interact but there are commonalities in their objectives and processes. Literature suggests that society can gain from combined use of the two (Zhu and Goyal., 2019). While creativity is required to make scientific breakthroughs, art can be used to express scientific knowledge.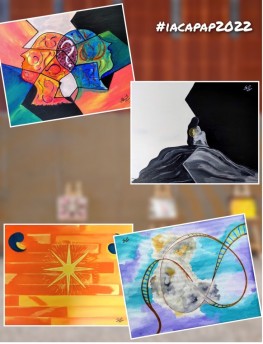 "Before a child speaks, it sings. Before they write, they paint. As soon as they stand, they dance. Art is the basis of human expression." – Phylicia Rashad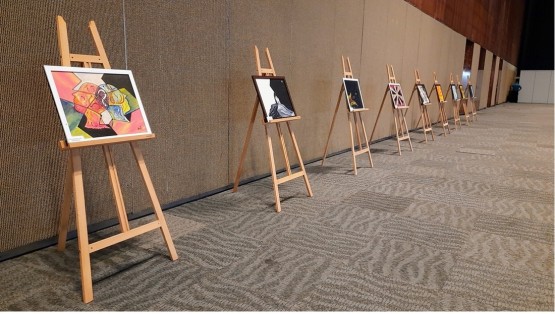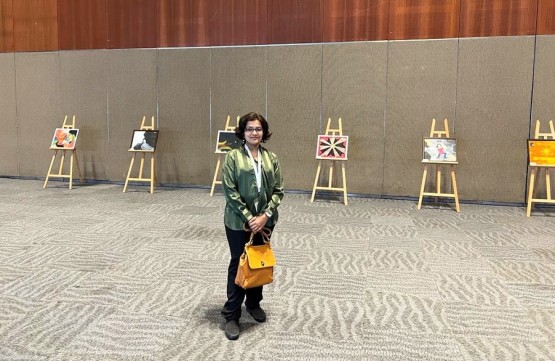 Expressive arts constitute writing, drama, dance, movement, painting, and or music. Arts-based therapies involve using creative media to develop a therapeutic relationship and can be an alternative to talking-therapies by facilitating the expression of inner states that may be difficult to articulate verbally (American Art Therapy Association, 2018; Fancourt and Finn., 2019). Moreover, art fosters creativity even in typically developing children. Hence there is a place for arts in child and adolescent mental health and wellbeing, and therefore in a scientific CAMH congress.

The IACAPAP Congress, which recently concluded in Dubai focused on the role of modern technology in shaping the future of child mental health. This platform gave an opportunity to showcase artworks unravelling the experience of depression. Nine artworks designed by me to help a client's cognitive restructuring during the process of therapy (CBT) were displayed at this congress. Depression is the leading cause of global disability affecting approximately 4.4% of the world's population. Statistics suggest that about one-third of adolescents aged 10–19 years are at risk of developing clinical depression. A majority of individuals, especially those from low- and middle-income nations often receive no treatment and stigma is one of the barriers to help-seeking and treatment provision (World Health Organization, 2021). The primary motive of the art show was to give a voice to those suffering in silence and pass the message of their distress to various stakeholders at the meeting.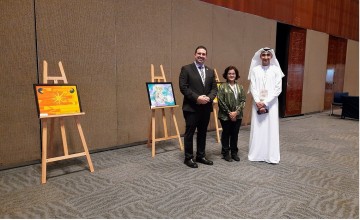 With Dr Ammar Albanna (Conference Chair) and Dr Hesham Hamoda (Scientific Chair) at the IACAPAP 2022 Congress
Pictures speak louder than words. They uniquely convey abstract and complex concepts, which is what psychiatry is all about. As mental health professionals and advocates, we must exploit this power of visuals to educate multiple stakeholders about common mental health ailments as there is a need to promote awareness on mental health issues more than ever.

I thank the organizers for giving me this wonderful opportunity on an international platform and helping me realise my endeavour at the congress!

References:
American Art Therapy Association (2018).About Art Therapy. Available online at: https://arttherapy.org/about-art-therapy/ (accessed December 13, 2022).
Fancourt D., Finn S. (2019).What is the Evidence on the Role of the Arts in Improving Health and Well-Being. A Scoping Review. Copenhagen: WHO Regional Office for Europe.
World Health Organization (2021). Depression. Available online at: https://www.who.int/news-room/fact-sheets/detail/depression (accessed December 13, 2022)
Zhu L, Goyal Y. Art and science: Intersections of art and science through time and paths forward. EMBO Rep. 2019 Feb;20(2):e47061. doi: 10.15252/embr.201847061. Epub 2018 Dec 27. PMID: 30591523; PMCID: PMC6362349.