Book Review: Manual of Mental Telehealth, Digital technologies in Clinical Practice
[Manual de telesalud mental, Tecnologías digitales en la práctica clínica]. Martí Noguera, J.J. (Editor) (2022). Ediciones Pirámide (Grupo Anaya, S. A.).
By: Flora de la Barra Mac Donald
Child & Adolescent Psychiatrist
Adjunct Professor, East Psychiatry department, University of Chile
Summary of the official presentation on behalf of Millennium Nucleus to Improve the Mental Health of Adolescents and Youths (Imhay) and Department of Psychiatry and Mental Health - East, Faculty of Medicine, Universidad de Chile, Santiago, Chile.

Mental telehealth has been documented in recent decades as an important tool for reducing disparities in prevention and access to mental health services, as well as developmental delays in children and adolescents. All of these issues became more evident during the pandemic.

In the introduction, the Editor Juan José Martí Noguera, highlights that the Internet reaches 60% of the world's population, while coverage of face-to-face mental health care is very poor.
The strengths of this publication are many, I will mention those that seem to me to be very relevant: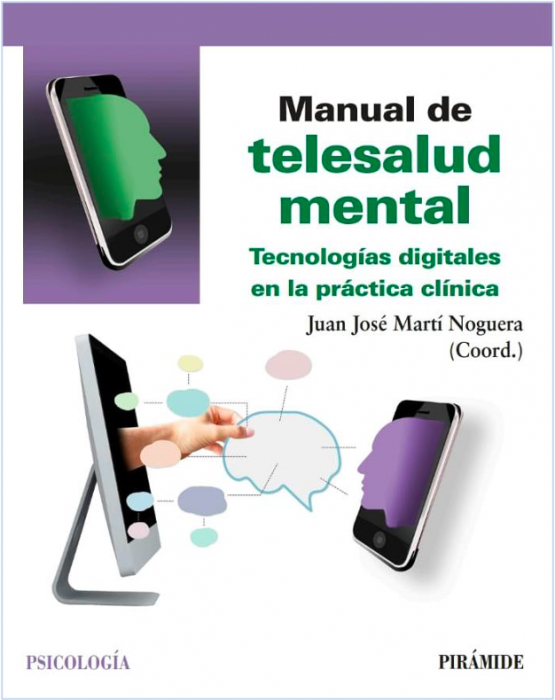 It is the first publication of its kind in Spanish. It brings together the skills and experience of 25 authors from 6 countries (Argentina, Chile, Colombia, Puerto Rico, Spain, and the United States).
Discusses issues related to digital technology, ethics, and deontology as applied to telecare, cybersecurity, confidentiality protection, and research methodology. A second section presents evidence of tele-mental health consultations in various populations. The third section details technologies applied to mental health, both web and mobile applications, such as virtual reality, enhanced reality, artificial intelligence, and therapeutic gamification.
The details of each topic are discussed from multiple perspectives. Chapters begin with clear definitions of terminology and interventions, analysis of associated variables, populations in which they have been applied, historical background, updated reviews, classification of interventions, as well as evidence of acceptability, effectiveness and cost-effectiveness. It also addresses confidentiality assurance, projections of future developments, and recommendations for practice, study and research. It also covers confidentiality assurance, projections of future developments, and recommendations for practice, study, and research.
Ros-DeMarize & cols review the applications of tele-mental health in children and adolescents, discussing behavioral parent training, combined therapies for externalizing disorders, and cognitive-behavioral therapy for internalizing problems.
Martinez & Lira review internet interventions in mental health, the different forms of classification, efficacy studies, and measurement of acceptability or effectiveness. They add evidence on eating disorders and suicidal ideation, highlighting that it is scarce in child and adolescent populations, in contrast to the familiarity of young people with the Internet. Digital modalities could help bridge the gap in access to mental health care, and the stigma associated with face-to-face consultations. Studies show high acceptance by parents, children, and adolescents, but controlled studies are scarce.
Mobile mental health applications offering relaxation exercises, psychoeducation, social support, and positive reinforcement have been evaluated positively concerning feasibility and acceptability, but less so in efficacy on depression, anxiety, stress, quality of life, and positive affect. However, they have the potential for the development of universal, selective, or indicated easily accessible and low-cost prevention programs. Again, most research has been conducted in adult populations. There is a need to gather more information on efficacy, improve use, and ensure the means for incorporation into clinical practice.
Virtual and enhanced reality has been used in the treatment of anxiety disorders and specific phobias, showing a comparable efficacy to in vivo exposure. Also for personal change, body image disorders, physical therapy, pain reduction, and social/emotional training in autistic children, with variable evidence.
The use of chatbots with cognitive-behavioral or positive psychology frameworks for depression and anxiety is described. Examples include problem-solving, healthy lifestyles, and support for dementia patients and their caregivers. Avatars have been developed for children on the autism spectrum to train social and communication skills, with promising small studies of acceptability and efficacy.
Early studies on the use of video games in the therapeutic process suggest beneficial behavioral and emotional changes.
The final chapters offer reflections on the implementation of technological interventions in mental health. The authors conclude that it is necessary to plan at various levels and take into account contextual, technological, institutional, professional, and patient factors. They emphasize that the development of new tools must be accompanied by translational research that integrates clinical practice, associated benefits and problems, confidentiality, and specialist training.
The undoubted merit of the book is the exhaustive analysis of the state of the art and the possibilities of digital interventions in mental health. However, it would be desirable in future developments to broaden the focus of analysis beyond psychotherapy to include other professionals, parents, and teachers. Population intervention could be enriched in terms of promotion, prevention, and primary and secondary care. The same is true for the integration of psychotherapy with other interventions, such as psychopharmacology. In addition, physical health and medical problems should be considered within the biopsychosocial complexity, from individual diagnosis to the epidemiology of populations, in cross-sectional and longitudinal studies that integrate risk and protective factors for mental health.
Finally, I would advocate for further study of mental health and telecare in child and adolescent populations, as follow-up studies have shown that, what happens at those early ages, predicts adult wellbeing or problems, as well as the development of resilience and the opportunity for early interventions.