A Great Advocate and Ambassador for Child and Adolescent Mental Health Turns 80!
Olayinka Olusola Omigbodun, Professor of Psychiatry, College of Medicine, University of Ibadan; Consultant in Child & Adolescent Psychiatry, University College Hospital, Ibadan, Nigeria; Director, Centre for Child & Adolescent Mental Health (CCAMH), University of Ibadan; President IACAPAP 2010 2014
I am absolutely delighted for this rare opportunity to honour Dr. Myron Belfer as he turns 80 years on December 28, 2019. Myron is a very special person and I would like to refer to him as the greatest Child and Adolescent Mental Health Advocate and Ambassador in the world that I know! His impact on Child and Adolescent Psychiatry and Mental Health around the world, especially in resource-poor regions is unparalleled.
One thing that makes Myron stand out is that, not only does he write about and advocate for the development of CAMH training, research and service development around the world, he actually goes to the places where help is needed, especially in the most deprived and difficult areas of the world. Myron is also known to visit places after humanitarian disasters to ensure that CAMH services are set up or re-established. His impact around the world for the development of CAMH has been exceptional. In this special article, several CAMH professionals from around the world have written about the mentorship they received from him and his visits to support them.
I first saw Myron at the congress of the International Association for Child and Adolescent Psychiatry and Allied Professions (IACAPAP) in Berlin in 2004 from a distance when he was President of IACAPAP. The first time I really had a chance to meet with Myron and speak to him was on African soil in 2005, at a meeting in Congo Brazzaville.
I will start off these tributes written in honour of Myron by CAMH professionals from around the world by providing a short bio-sketch of him. I follow that with my own perspective and then we will have the other descriptions of Myron and his roles from around the world, each with a unique perspective.
Biographical Sketch of Myron L. Belfer
Myron completed a Bachelor of Arts degree in Psychology at the University of Rochester in 1961 and completed his M.D. at the Albert Einstein College of Medicine in 1965. He had his internship at the Children's Hospital of Philadelphia between 1965 and 1966, residency in Psychiatry at the Massachusetts Mental Health Center and a Fellowship in Child Psychiatry at the Children's Hospital Boston. Myron started out as an Associate in Psychiatry at the Children's Hospital, Boston and rose up through the ranks. He has at various times been Chief, Department of Psychiatry at the Children's Hospital, Boston, and the Cambridge Hospital, Cambridge. He was promoted as a Professor of Psychiatry at the Harvard Medical School in 1991. Between 1991 and 1994, Myron was Special Assistant to the Director, Substance Abuse and Mental Health Service Administration (SAMHSA), Department of Health and Human Services, Washington. In 1995, Myron was awarded a Masters of Public Administration from the John F. Kennedy School of Government, Harvard University, MA. Between 2000 and 2005, Myron served as Senior Adviser for Child and Adolescent Mental Health with the World Health Organisation (WHO).
Myron has had several opportunities to serve and advocate for the cause of children and he made the best of those chances to make a difference. From 1970 to 1971 he was Staff Health Cluster, White House Conference on Children, Treasurer, President Elect and President, New England Council of Child and Adolescent Psychiatry (1970-1987), President Elect and President, Massachusetts Psychiatric Society (1988-1990), Co-Chair, International Relations Committee, American Academy of Child and Adolescent Psychiatry (2002-2009), Member Section of Child and Adolescent Psychiatry, World Psychiatric Association (2004-2006), President, International Association for Child and Adolescent Psychiatry and Allied Professions (IACAPAP) (2004-2006), Chair, Global, Consortium for Infant, Child and Adolescent Psychiatry and Allied Professions, and Chair, Global Mental Health Initiative, Harvard University, Harvard Center on the Developing Child.
Some of the honors that Myron has received are Life Fellow, American Academy of Child and Adolescent Psychiatry (1986), Honorary President, IACAPAP (2009) and the International Contribution Award for Lifetime Achievement for IACAPAP (2010). Apart from his academic achievements Myron is a wonderful husband to Sandy and they have two sons and daughters in-law.
Eight Wonderful Things Myron Contributed to the Growth of CAMH on the African Continent—
Myron worked closely and passionately with several African Child and Adolescent psychiatrists and mental health (CAPMH) professionals to lay a solid foundation for the growth of child and adolescent psychiatry and mental health in Africa. I could write several pages about Myron's role in building up CAMH in Africa but I will just mention 8 ways, one for each decade of his life so far, and use this opportunity to thank him for what he has done:
One
Thank you, Myron, for supporting and attending the Inter-Country Meeting on Child and Adolescent Mental Health at the World Health Organisation African Region (WHO-AFRO) in October 2005 in Brazzaville. That meeting was the first of its kind and you came out from Geneva to support and participate in this pioneer meeting of CAMH professionals in Africa organised by WHO. This meeting laid the foundation for the formation of an African CAMH organisation.
Two
Thank you Myron for inviting me to join the IACAPAP Executive (EC) as the first Presidential fellow in 2005, when you were President. This did a lot to bring the issues of Africa and other low-resource regions to the fore.
Three
Thank you Myron for attending the IACAPAP study group in Nairobi, Kenya in 2007. It was during this meeting that the African Association for Child and Adolescent Mental Health (AACAMH) was launched and you were there supporting and encouraging. At your own expense you came to teach and mentor so many of us and encouraged us to rise up to become leaders.
Four
Thank you Myron, for coming to Abuja, Nigeria to attend the IACAPAP Study group in September 2009. You facilitated several sessions and were such a great mentor. Again, you came at your own cost at a time when there were travel advisories against coming to Nigeria.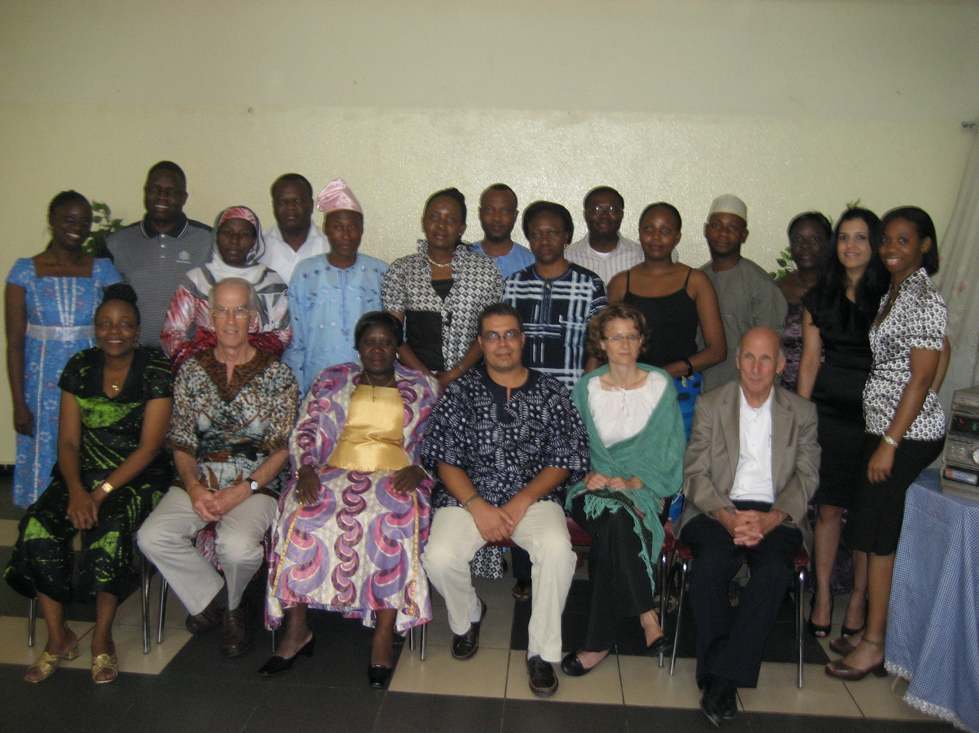 Five
Thank you Myron for the unparalleled support I received from you, when I was IACAPAP's President. Thank you for the excellent work you did as IACAPAP's External Relations Chair during the period. You wrote presidents of several organizations, informing them about IACAPAP's activities. You always tried to make my work easy; you were constantly looking for solutions to problems and standing up for me when the situation arose. You are a true mentor and friend.
Six
Thank you Myron for insisting that the 2014 IACAPAP congress should hold in Africa, bringing an IACAPAP Congress for the first time onto African soil. I remember so clearly how you spoke at the crucial EC meeting in Istanbul in 2008 about the importance of taking the congress to Africa. The convenor was Alan Flisher, who unfortunately passed away in 2009, leaving Brian Robertson to take over as convenor. You wanted a truly African conference with African speakers; I know you did not exactly get your wish, but many of us could relate to your passion about showcasing African CAMH professionals at that congress.
Seven
Thank you Myron for agreeing to be a co-investigator on the John D. and Catherine T. MacArthur grant to establish a training programme for CAMH on the African continent. You contributed to the writing, corrected the drafts and worked hard to ensure we won the grant, which we did. The Centre for Child and Adolescent Mental Health (CCAMH) is a product of our combined efforts. That seed sown has grown into a tree, with over 100 CAMH professionals from 14 African countries trained on a Master of Science degree programme in Child and Adolescent Mental Health (MSc. CAMH), through your partnership and friendship. You also sent two big sacks of books for the CCAMH Library at your own expense.
Eight
Thank you for focusing your attention on the resource-poor regions of the world. Through your efforts the CAMH landscape around the world has changed tremendously and many more infants, children, adolescents and their families have access to CAMH care just because you cared.
Thank you so much dear Myron and Happy Birthday! You have done well may God bless you Myron. We really appreciate you.
Sincerity, Integrity and Curiosity
Its such a pleasure to be able to send my greetings from Sunny Singapore to Balmy Boston
You graduated from medical school the same year that Singapore graduated from being part of Malaya to be its own independent state.
Your accolades are many and I am sure your more august colleagues will speak to them. I just want to say that I appreciate, from the first time I met you (I think it was back in 2006), your friendship and mentoring over the years.
I would like to share a story of how once, when I visited your home and was having a sniffle because of travelling, and you took out a fresh silk handkerchief and handed it to me, asking me to keep it. That was always your nature, helping without reservations. I remember how you and Sandy welcomed us to your home and brought us to eat and I must say, your hospitality is so warm and loving. I could sense that you cared, you cared for people and you cared for systems. And your contributions internationally both in the years with WHO and IACAPAP has really set you apart as a child and adolescent psychiatrist. There are only 3 values that I can describe you Myron: Sincerity, integrity and curiosity.
These values have held you well over the years in the relationships that you have forged, the organisations that you have contributed and the research that you have participated in. Myron, I had originally planned to be there but I have been travelling too much and my wife Joyce wants us to stay home for this last month of the year to rest and recuperate. Nonetheless, I do want, on behalf of our team here in Singapore, and our International colleagues of IACAPAP, wish you a fantastic and wonderful birthday.
Thank you Myron for being a part of our lives!
Dr Daniel Fung
Chairman Medical Board, Institute of Mental Health, Singapore www.imh.com.sg
President, International Association of Child and Adolescent Psychiatry
Devotion to the Mental Health of Children
In the teams I worked with Myron Belfer, I learned a lot from his enthusiasm, hard work, leadership skills, sense of humor, stubbornness, wisdom, devotion to the mental health of children all over the world and commitment to IACAPAP. Thank you for being there Myron.
Füsun Cetin Çuhadaroglu, MD
Professor of Child and Adolescent Psychiatry, Hacettepe University Faculty of Medicine, Ankara, Turkey
IACAPAP Counselor, Immediate Past Secretary-General of IACAPAP
International Ambassador of IACAPAP
In his academic curriculum vitae, he writes: "Entering into psychiatry, I always wanted to be a child psychiatrist. My interests were in how children responded to stress and I pursued research in this area. Most of my time as a young child psychiatrist was spent doing consultation-liaison psychiatry at Boston Children's Hospital. My focus was largely on surgery and particularly on plastic and reconstructive surgery. It was in this area where I developed a special interest in body image. The rest of my career has been largely devoted to administration and global child mental health, including five years at the World Health Organization in Geneva."
The latter activity was an important step for the development of child mental health initiatives worldwide and also a great step for IACAPAP. Before this activity and especially during his work at the WHO in Geneva, Myron Belfer became a real ambassador for child and adolescent mental health worldwide and also as a responsible delegate for this development on behalf of IACAPAP.
I will only name a few of Myron's initiatives:
IACAPAP: He served as President and many years as treasurer of IACAPAP and is now Honorary President of this organization.
WHO: He facilitated child mental health projects all over the world, especially in the Asian region. China was the most important field of his initiatives.
He introduced and carried out the "ATLAS Project" which is the first worldwide catalogue of mental health initiatives.
He initiated and took part in many training and research activities and was – and still is – an excellent teacher for young mental health workers in many countries of the world.
He is author and co-author of many papers and books with focus on international child mental health.
He was a prominent member of the presidential initiative on child mental health carried out as a joint venture of WPA, WHO, and IACAPAP. This project was a remarkable initiative for the improvement of child and adolescent mental health worldwide. The results of this project were presented at the WPA congress in Cairo in 2005 and published in the book "The Mental Health of Children and Adolescents. An area of global neglect, Wiley, Chichester 2007.
These are only a few aspects of his worldwide activities. He really deserves the title of the "international ambassador of IACAPAP", devoted to the improvement of child and adolescent mental health all over the world.
At a personal level, I want to thank Myron for his excellent cooperation and friendship over more than three decades. I want to put a special emphasis on the time spent before and during the 16th IACAPAP World Congress in Berlin in 2004 – this was the most thrilling and intensive time we spent together. As Myron was in Geneva at WHO, he was able to come to Berlin rather often, and our co-operations led to the up to now best attended IACAPAP world congress with all in all 2,700 participants.
Dear Myron, I want to combine my heartfelt congratulations with many thanks for your support and friendship – ad multos annos!
Prof. Helmut Remschmidt, MD, PhD, MD h.c.
Philipps University, Child and Adolescent Psychiatry and Psychotherapy, Marburg (Germany)
Former President and Honorary President of IACAPAP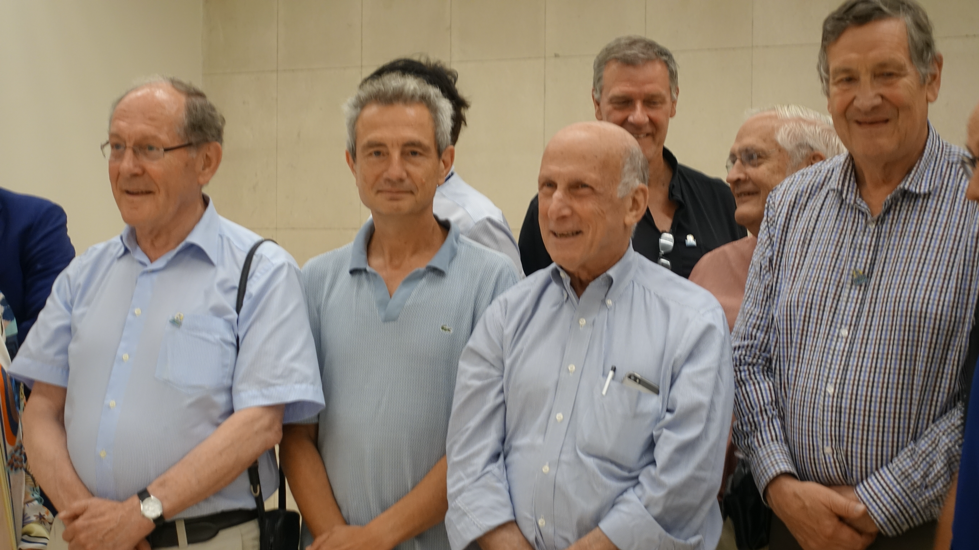 A Mentor, Friend and Role Model
I remember the first time I met Myron. It was a warm day early in July 2008 and one of my first days as a Fellow at Boston Children's Hospital. I had heard a lot about Myron but had never met him in person at that point. In fact, he was one of the main reasons I chose to train there. That morning, the team was meeting for rounds and I sat beside him and we got introduced. I could not believe that this was the world-famous Myron Belfer!!!! He was humble, unassuming and immediately made me feel comfortable. Since that day he "took me under his wing", he has been a mentor, a friend and above all a role model.
I can't even attempt to summarize the many ways he has supported me personally and professionally. Myron introduced me to IACAPAP which has been an intellectual home for me with like-minded individuals trying to have an impact on the lives of children wherever they are in this world. During my fellowship, he helped me work on an Atlas project with the WHO on CAMH services in the Eastern Mediterranean Region. He connected me with people in my own home country that I would have never been able to access before. He was always there with his guidance and care. Whether I have questions about construction of our new house, my children's schooling, or needed comforting when I received news about a possible cardiac defect my little daughter was suspected to have in utero (fortunately she was born healthy), he was always there, always present, always caring.
I consider myself exceptionally lucky to have had the chance to meet Myron and benefit from his mentorship. He is one of those people whose impact fundamentally makes everyone around them a better person. As he embarks on a new decade of his life I wish him happiness and continued success.
Hesham Hamoda, MD, MPH
Attending Psychiatrist, Boston Children's Hospital
Assistant Professor, Harvard Medical School
Vice President, IACAPAP
We say "Thank you" from the Depth of Our Hearts
It has been three years since Dr. Myron Belfer started to work closely with us in order to build up a better mental health service for children and adolescents here in Shenzhen, China. However, Myron had supported the development of child and adolescent mental health services in China for longer than three years. We had heard of him from our colleagues in other parts of China for his work in calling to action the neglected areas and to provide technical, professional, educational, policy, and financial support. During the three years of collaboration, we have known Myron as a humble and warm gentleman, a playful and enthusiastic child worker, a skilful and professional child psychiatrist, a mental health advocate, a humorous and genuine gentleman and a true dumpling lover. We are very grateful to have Dr. Belfer come and help us with child and adolescent mental health service development through the years. His help all over China is memorable and cherished. We appreciate his help during 2008 Sichuan Earthquake, for the establishment of the Shanghai School Mental Health Service System and the current work in building School Mental Health Service Systems and Comprehensive Training Systems for Specialists in Child Psychiatry. We would like to say "Thank you" from the depth of our hearts to Dr. Belfer. He has spoken out about the burden of mental disorders in childhood and adolescence and offers great help to help establish a better Chinese Child and Adolescent Mental Health Service System.
Jianping Lu, MD
Director, Department of Child and Adolescent Psychiatry, Shenzhen Mental Health Center, Shenzhen Kangning Hospital, China
Mentor, a Role-Model and a Father
I had the privilege of working with Prof. Dr. Myron Belfer in 2008 at Boston Children's Hospital during my observership programme. I went to Boston during my residency just for a short holiday and I decided to apply to the visitor clinician programme at Harvard Medical School with the encouragement of my brother and mentor. I sent an email to Dr. Belfer and he answered it very kindly and warmly. He gave an appointment to meet my brother and me at the Children's Hospital cafe and my biggest dream began on that day.
He is always a good listener, open to different opinions and believes in ideals, ethics and scientific integrity. Dr. Belfer has acted not only as a magnificent supervisor but also as educational mentor with patience and generosity. Throughout our time together, he taught me how to think, talk and write, how to cope with struggles and how to promote creativity without imposing over competition. He always provided me generous support to attend scientific meetings and courses during my time at the Children's hospital. After my time in the Children's Hospital, he continued to encourage me about my academic career and life for 11 years.
I believe working with him was a unique opportunity for me in my early career steps. I'll always be thankful to him for devoting his time and mind to me as a mentor, a role-model and a father.
Happy birthday Dr.Belfer!
Dr. Meryem Özlem Kütük
Başkent University, Department of Child and Adolescent Psychiatry, Adana,Turkey
Grace, Humor, Kindness, Accurate and Timely Advice
I first met Myron Belfer at the AACAP conference in Washington in 2004. Colleagues from the Czech Republic he already knew introduced me as a young psychiatrist and emerging scientist. Myron looked at me with a smile and said, oh so you are such a scientific embryo. At that time, I had no idea how a life changing meeting for me began with this nice joke. Six years have passed and my supervisor on the PhD program, Doc. Vladimir Hort, suggested that I could go to the experienced world and apparently to Harvard! That seemed unrealistic to me as if he was telling me to go outside our galaxy. True, it would be completely unrealistic if it was not offered by one exceptional person, namely Vladimir Hort, who was friends with another exceptional person and that was Myron Belfer. Indeed, only a few weeks passed and I was confirmed to be able to come and join Myron's Boston Children's Hospital Global Partnerships for Psychiatry. Two months in Boston represented a turning point for my career. I had the opportunity to experience the excellent teaching of child psychiatry, but most of all I saw a living example of the personality of a professor who will become my life model, whose life mission is helping others. At every meeting that we had together he asked me "what else can I do for you?" but he did much more than I could have wanted. All this set in motion a long series of situations and circumstances, and the most visible one was the IACAPAP World Congress in Prague in 2018 which we hosted in Praque. I think it beautifully illustrates the admiration of Myron's personality. With grace, humor, kindness and always accurate and timely advice, it starts the movement processes that bring benefits that we cannot even imagine at the beginning. I am extremely grateful that I met Myron and I have the opportunity to thank him again.
Ad multos annos!
Michal Goetz
Prague, Czech Republic,
Former Scientific Embryo
Working with Myron is like Working with a Celebrity
I have known Myron since the beginning of my career in child psychiatry and he has been a mentor throughout my career. I first met Myron when I arrived at Boston Children's Hospital and Harvard Medical School in 2005 as a child psychiatry fellow. The most striking thing I remember was that he was one of the most humble people I had ever met. He was on the consultation-liaison service and came unassumingly to rounds, saw patients, and attended meetings. At the time he was the President of IACAPAP but never mentioned this. It wasn't until almost a year after I met Myron that I learned he was also previously Chief of Psychiatry at multiple hospitals.
Upon learning about my global mental health interests during the first year of my fellowship, Myron recommended me for participation in the Donald J Cohen Fellowship at IACAPAP and sponsored my attendance at the conference in Australia. After the conference, he learned of my interest in doing a project in my home country and became my research mentor, helping me develop a project for which I received an award that funded a mental health needs assessment in 17 schools in Ibadan, Nigeria.
Shortly after I graduated from fellowship and became an attending consultant, Myron invited me to help develop the Boston Children's Hospital Global Partnerships in Psychiatry Observership program and to become Co-director with him in 2009. I have been incredibly honored to work closely with Myron on this program over the past decade, meeting amazing psychiatrists, psychologists and pediatricians from all over the world. Under his mentorship, I have now become the senior director of this program.
Working with Myron is like working with a celebrity – he seems to know every child psychiatrist in every country. I have watched him help psychiatrists all over the world and literally change the trajectory of their careers. He travels constantly – I could have coffee with him in the morning in Boston and later in the evening receive a call from him from another country. "Oh yes, Patricia, I'm in Paris tonight, but we can discuss when I get back to Boston on Wednesday", he would say casually. As glamorous as this sounds, Myron is one of the busiest people I know. I do not believe he understands the meaning of the word "retirement"; as he turns 80, he is currently spearheading a national child psychiatry training program in China.
They say a good mentor is someone who will create a mentoring relationship that fits your needs, talents, and desires and push you towards a better you and Myron has done this for me. Throughout my career he has always been there to support, encourage and advise me and he always believes in my abilities even when I doubt myself. There is no monetary value that can be placed on this kind of mentorship and I will forever be grateful to have had the amazing opportunity to be mentored by Myron Lowell Belfer.
Patricia Ibeziako, MD
Associate Chief for Clinical Services, Department of Psychiatry, Boston Children's Hospital
Director, Psychiatry Consultation Service
Assistant Professor in Psychiatry, Harvard Medical School
A True Friend of IACAPAP for 30 Years
Dear Myron,
I am sending you my best congratulations when you are now reaching 80 years of age.
You are a very good friend of mine and have been a true friend of IACAPAP for 30 years. You became the treasurer of IACAPAP just after the Kyoto Congress in 1990 and stayed as Treasurer until 2004, when you became the President of IACAPAP and then the Past President, serving until 2010 – a 20 year journey as Bureau officer of IACAPAP's story, and you are still active.
We learned to know each other more and more during the planning of the 1998 IACAPAP Congress in Stockholm when discussing the program and the economy. I learned a lot from you and even more when I was the Secretary-General during your Presidency. We have had a lot of IACAPAP experiences and lots of fun together.
You have made really important contributions to IACAPAP. In my opinion, the most important contribution was moving to Geneva to work in the WHO and placing IACAPAP on the Map of the World. We are all deeply grateful for that!
As you still have the IACAPAP spirit, I hope for many good years to come. Not everyone may know that you are also a climate-activist, driving a Tesla – an indication of the future aspiration!!
All the best,
Per-Anders Rydelius
President of IACAPAP 2006-2010
Sweden
Mentor for Many Generations of Child Mental Health Professionals
Myron Belfer is a mentor for many generations of child mental health professionals in countless countries, but I would like to remember and recount his unique contribution to building a child mental health programme at World Health Organisation. It is unusual for a professor of Harvard to offer to spend two years of his life working for WHO, and that too with no salary, but that is what Myron did around the turn of the Century. He relocated to Geneva and at a tremendous cost to his professional and personal life, devoted himself to constructing, almost from scratch, a global child mental health programme for WHO. It was not easy; the world was not quite ready, even WHO was not, but his energy and persistence was infectious and eventually was rewarded. It took four years, but a programme was born. One of the highlights was the first ever Atlas of Child and Adolescent Mental Health Resources published in 2005, which put policy makers to shame and galvanised action in many countries. WHO has achieved a lot in this area since then, but the foundation of this was laid by Myron.
I am now a colleague of Professor Belfer at Harvard, closely watching his current initiatives, which too are extremely impressive. But for me, his seminal contribution to WHO remains unique and unparalleled.
I wish Myron Belfer many more years of impactful and satisfying professional leadership and good health and happiness.
Shekhar Saxena
Professor of the Practice of Global Mental Health, Global Health and Population, Harvard T H Chan School of Public Health
Director, Department of Mental Health and Substance Abuse (MSD) (2010 to 2018), World Health Organization's Headquarters' Office, Geneva, Switzerland
Curious, Helpful, Sharing Knowledge, Active, Traveling
When I met Myron many years ago, he resembled the actor Louis De Funes to me, and still does. Myron, it is such big joy to learn from you! Smiling, with a wonderful sense of humor, very devoted to child and adolescent psychiatry and IACAPAP, curious, helpful, sharing knowledge, active, traveling and systematically doing such important and serious things for child mental health in the World! Congratulations, wishing you happiness and good health!!! Till next meetings.
Sigita Lesinskienė
Immediate Past IACAPAP Vice President
Lithuania
He Opened my Mind and Guided Me
I met Prof Myron Belfer in 2004 during the XVI IACAPAP Congress that was held in Berlin, Germany. However, I had been introduced to him around 2003 when I was finalizing my masters thesis. He is a great person with a broad horizon about child and adolescent psychiatry and mental health. Being a new graduate masters student from Indonesia, I was very fortunate because Prof Belfer willingly supervised my English scientific writing, therefore I learned a lot from him. I really felt blessed. He also opened my mind and guided me to get information about issues in child and adolescent mental health, such as child and adolescent mental health among minorities, mental health and wellbeing among internal refugees especially in disaster areas. He also gave me a chance to increase my clinical skills as an observer in Boston Children's Hospital in 2008. I am very lucky I had the opportunity to collaborate with him. We worked for several years on developing modules for capacity building for child and adolescent mental health professionals in Indonesia. We set up training of trainers' programmes and also had training programmes in several provinces in Indonesia, such as Central Java, Aceh and Jakarta. In my opinion, Prof. Belfer has a very unique perspective on child and adolescent mental health and psychiatry; his thoughts on how a child and adolescent react and experience the environment during and after a natural disaster really broadened my point of view about the development of children and adolescents. Nevertheless, during our discussion, Prof Belfer also shared his perspectives on his work and professionalism being a child and adolescent psychiatrist that I did not get during my study. I am very proud for his guidance and helping hand, and really feel gratitude for all that he has done for me. After 15 years from our first meeting in Berlin, with God's hand and Prof Belfer leadership, I am now a Professor in the Faculty of Medicine Universitas Indonesia, Jakarta-Indonesia. Happy 80th birthday Prof Belfer, you are always on my mind. God Bless you and your lovely family always.
Tjhin Wiguna
Faculty of Medicine Universitas Indonesia-dr., Cipto Mangunkusumo General Hospital, Jakarta – Indonesia
Great Expert, a Charismatic Man and a Witty Man
Myron Belfer and his family visited Prague shortly after the Velvet Revolution in the 1990s. There were several meetings with colleagues in Prague, which were both inspirational and really helpful for the Czech pedopsychiatry, in professional consultations, in the availability of professional literature, in participation in conferences and visits to workplaces focused on pedopsychiatric topics. Thanks to Myron, some colleagues were able to visit Boston in 1998, which gave us a glimpse of the world pedopsychiatric scene and interest in building a discipline in the Czech Republic. Myron Belfer is a great expert, a charismatic man and a witty man, his enthusiasm, interest in people and generosity are admirable. Memories of contact and experiences with him do not fade even after years. We wish all the best for his birthday and for years to come.
Vladimir Hort & Jana Kocourkova
Prague, Czech Republic