7th IACAPAP Lunch & Learn Webinar

Wednesday, 21 September 2022
12.00 PM - 12.45 PM Sydney
COVID: a Māori child and adolescent psychiatrists experiences, local and global lessons
He toka tū moana, he ākinga nā ngā tai.
A rock in turbulent seas.

The experiencs of Māori, the indigenous peoples of Aotearoa NZ, just like other indigenous groups, is of colonisers bringing infectious diseases to our shores which killed us in vast numbers.

The COVID pandemic has brought back memories for many of the The Great Flu of 1918 and 1919 where our death rates were at least 8 times those of non-Māori.

We bring our history and current COVID experiences to each stage of our decision making and planning to the evolving impacts of this pandemic.

The mortality and morbidity gradient for COVID is the same as the socio-economic-cultural inequity gradient that we are already familiar with. COVID kills the most vulnerable. And in Aotearoa NZ that means Māori.

COVID is much more than an infectious disease pandemic, it is a mental health and addictions pandemic too. Around the world this is being called a syndemic, it synthesises the multiplicity of interrelated health inequalities and exposes them.

Globally indigenous peoples are seeing racist government policies continue to put us at disproportionate risk of the many effects of COVID; on our physical and mental wellbeing, our relational, spiritual, and economic self determination, all compromised even further.

As child and adolescent psychiatrists and allied professionals we have a unique set of skills and ethical responsibility to refine our understandings and actions in order to support indigenous extended families during this pandemic.
Dr Hinemoa Elder
Child and Adolescent Psychiatrist
MBChB, FRANZCP, PhD, MNZM
New Zealand
Dr Hinemoa Elder, Te Aupouri, Ngāti Kurī, Te Rarawa and Ngāpuhi, is a Fellow of the Royal Australia and New Zealand College of Psychiatrists and is a consultant child and adolescent psychiatrist in youth forensic and neuropsychiatry. Dr Elder is an advocate for use of Te Reo Māori.
She has a PhD and NZ Health Research Council Eru Pomare Post-Doctoral Fellowship researching traumatic brain injury.
Dr Elder is a deputy psychiatrist member of the NZ Mental Health Review Tribunal and a Specialist Assessor under the Intellectual Disability (Compulsory Care and Rehabilitation) Act 2003.
Hinemoa received the NZ Order of Merit for services to Māori and Psychiatry in 2019.
Dr Elder travelled to Antarctica in late 2019 as part of Homeward Bound, a global leadership programme for women in science.
In 2020 Dr Elder's best-selling book "Aroha. Māori wisdom for a contented life lived in harmony with our planet" was published by Penguin Random House. In 2021 the book was chosen to be part of the Oprah Winfrey Book club.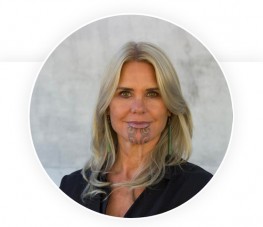 The webinar is open to members of IACAPAP.
This webinar will be conducted virtually via Zoom. There is no cost to attend, but registration is required in advance. Seats are limited and it's based on first come first served. E-certificate of attendance will be provided those who have attended and completed the survey.
For more information about IACAPAP Membership, please visit to https://iacapap.org/membership/ or contact info@iacapap.org.